India Vs England Women 3rd ODI– Jhulan Goawami Retires with winning Sendoff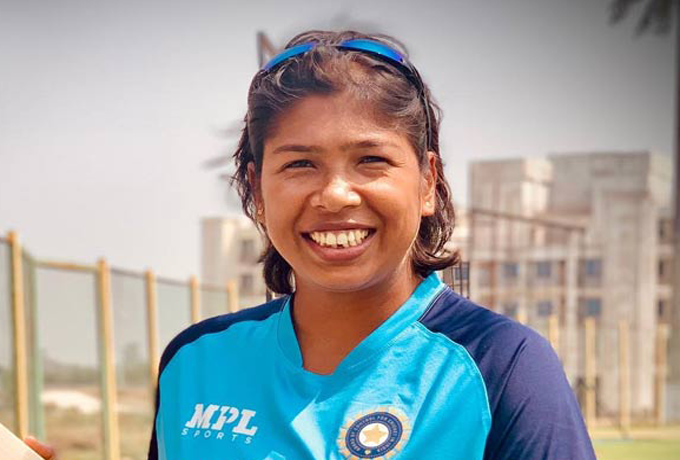 India Vs England scores after 23rd overs 108/6, Smriti Mandhana and Deepti on crease now. After drink break they showing some stability after loosing 6 wickets.
India lost first four wickets within 9 overs when score was 29/4. Smriti Mandhana and Dipti managed to make 58 in pertnership Mandhana has scored 50 of 79 balls and got out. Deepti continuing wicket fell down on other side. Hemlatha Cought by Dean and bowled by Ecclestone, India now 108/6.
After 34 overs it is 119/6. Deepti turns 40 and Vastrakar stands on other side smashed a hit of four and looking confident. The runrate remain just above 3.6. It's now 141/6 after 38 overs.
Vastrakar lbw at 22/38 and India scored 148/7 in 39 overs. Jhulan Goswami out at 0/1. India 149/8 in 39.5 overs. Deepti Sharma not out at 68/106 and India all out at 169 in 45.4 overs.
England batting second innings and after 7th over 1st wicket down, Lamb stumped by Bhatia bowled by Renuka Sing. England scored 27/1 after 7th over. After 11 overs England scored 39/3. England lost 3 wickets of Beaumont and Capsey.
It crashing down ! After 12.5 overs England on 53/5. Renuka got 3 wickets and Jhulan Goswami 1 and Gayakwad 1. England after 17 overs score 65/7. England has some how managed to hold wickets and at 26th over scored 98/7. Partnership between Charlei dean and Amy Jones struggle to manage a good score.
England 103/8 when Jones back to pavilion and Renuka got her 4th wickets. Jhulan Goswami bowled Cross in her last over before retire. England 118/9 on 35.2 overs.
After a hard try by Dean England all out at 154 and India win by 16 runs.
It is the last match for Jhulan Goswami before she takes retire for Cricket. After win the toss England decided to bowl first at 3rd ODI Lords in London. Kate Cross has taken two wickets for England.
Jhulan is the second who retire this year after Mithali Raj. Jhulan holds the highest number of wickets in women's ODI. No other bowel Reached the 200 benchmark in Indian Women Team in ODI. Since 2002 she got 253 wickets in 203 ODIs. She also represented India 68 T20Is and 12 tests.