Tallest Hanging Restaurant Overwhelm Tourist In Manali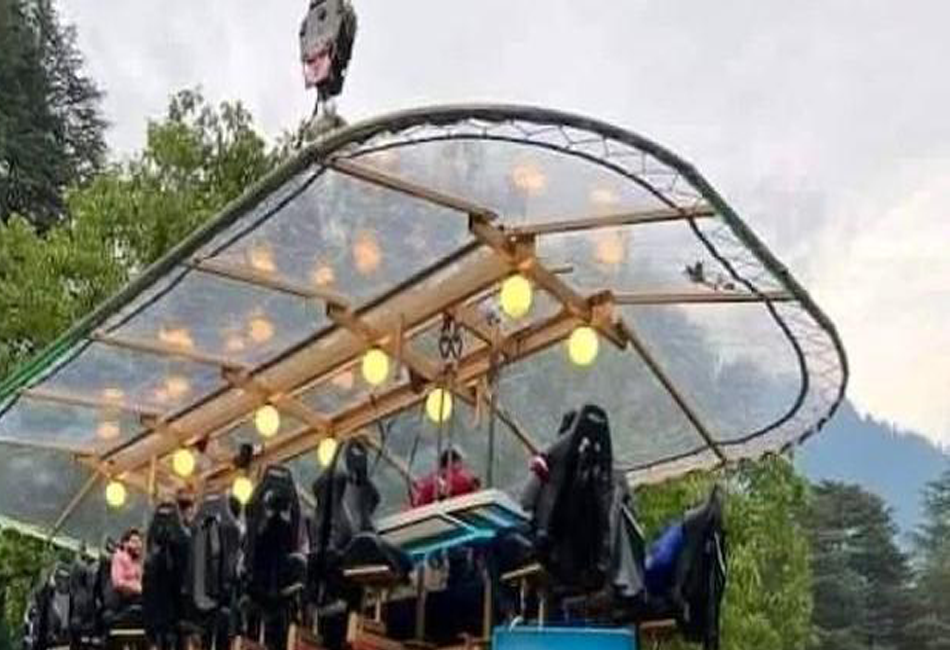 The Word's tallest hanging restaurant is now new adventure of tourist in Manali. At the 2,250 Miter above sea level between the snow capped mountain, seating on air with delicious lunch or dinner, an unbelievable experience.
The adventure lovers should excited for a upcoming trip for Manali. At the height off 160 ft from the land, with mouth watering lunch or dinner in the lap of green valley, reckless flowing down river with surrounded by snow capped mountain, thrills every one. So, tourists enjoying their out of the world experience and gathering from all over the world in Manali.
The world 's tallest hanging Restaurant boasts a huge table with sitting arrangement of 24 people at a time one ride with 4 house stuff. The massive table with guests reach on the top by pulling through a crane. The 360 degree revolving huge table with the capacity of 24 Tourists and also 4 house staff, lifted above the ground at 160 ft with a crane. For safety all tourists allowed with wearing seat belt and host tied to the harness belt. Tourists enjoying not only having lunch or dinner from the hanging dining table, also a birds eye view of entire Manali surrounded with snow capped mountain from the top.
The restaurant offers 5 different package for tourist. The package provide 2 lunch rides, one sundowner and another 2 dinner slots. Although India has witnessed this kind of dining experience in Goa, Agra, Noida and also in Bangalore. But it is the first time people enjoy this kind of eating experience in the lap of Himalayan snow capped mountaineering range.
Himachal Cabinet Minister Govind Sing Thakur Congratulate the owner and also suggested for another restaurant like this to be introduced in Shimla. Guests can book one seat or full table according to their need and 3,999/- will be charged per head for one session. The cost is included foods, accommodation, insurance, music and photography. According to the owner the project costs 9 crores and getting overwhelming response to the tourists after the opening.
The Minister also said, "Such new concepts are need of the hours to boost tourism. I myself experienced it and felt thrilled and rejuvenated. It's a must do activity for the adventure loving people. The cranes takes us above the Deodar trees and present an amazing view. The project has generated employment of dozens of youths, mostly from Himachal."
(News has been taken from News feed and other sources)