Sikkim Tours Nothing But Great Kanchenjunga Wins Millions Of Hearts
The marvelous landscape of Sikkim located in North -East India abundant natural attraction like rough rivers, lakes, valleys, mountains in the lap of Himalayas but the spectacular view of Kanchenjunga is unparallelly mesmerizing.
Sikkim is divided in to 4 districts and each of them are equally attractive with their own uniqueness. The 4 parts of the state are North Sikkim, Capital Mangan, South Sikkim and Capital is Namchi, East Sikkim and Capital is Gangtok, and West Sikkim, Capital is Gyalshing.
Hill Stations In Sikkim
Sikkim is a total hills destination with scintillating Himalayan Mountaineering range, gurgling rivers, cool lakes, breathtaking water falls and dream like forest, it has all you need to spend a dream holiday. Adventure lovers also never disappointed, for it is quite famous in the state.
Gangtok the Capital city of the state, which is counted among the best tourist destination in India. Gangtok is a peaceful place where tourists enjoy the heavenly view of Kanchenjunga. Gangtok houses the Eastern part of the state.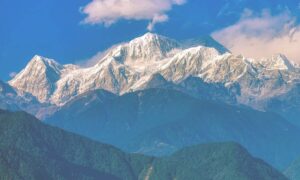 The East Sikkim along with Gangtok boast many attractive hill stations like Zuluk, Aritar and Kupup. West Sikkim and it's popular hill station like Yoksum, Pelling, Richenpong and Hee Bermiok offer stunning view of Kanchenjunga aling with other lofty peak.
The Northern Sikkim most popular among tourists for it's spectacular Yumthung valley and the picturesque small village of Lachen. The village is surrounded by huge snow capped mountain with Tista river flows through the middle of the village.
Other part of the Northern Sikkim is Lachung and Mangan boast around the snow capped mountain of Himalayas with stunning view of Kanchenjunga relish tourists for an unforgettable life time experience.
On the other hand, hill destination of Namchi, Rabangla, Jorthang offer strong Buddhism where monasteries are also big attraction to the tourists. People here are helpful simple villagers and their humble cooperation with visitors also an extra addon.
Pilgrimage And Monasteries In Sikkim
Sikkim is an vibrant and rich cultural state of North-Eastern part of India, located in the lap of Himalayan Mountain. The state boast valleys and gurgling rivers with abundant natural beauty. There are 200 Monasteries and Gompas in the state those influence the cultural heritage and people's lifestyle.
These Monasteries apart from it's spiritual appeal, offers a plethora of historical artifacts, Statues and Gem studded cenotaphs. Pemayangtse Monastery is one of the important pilgrimage site because it is one of the oldest Monastery in the state. Among other most important pilgrimage sites are Enchay Monastery, Phodang, Phensang Monastery and famous Rumtek Monastery also.
The Guru Padmasambhava Statue is the most sacred place for Buddhist pilgrimage and located on the top of Samdruptse hill. The tallest Statue of Guru Padmasambhava attracts all kind of tourist for an amazing holy ambiance. An exhibition displayed variety of image of Indian History with in the complex.
Apart from Monasteries there is also exists Hindu Temples, Churches, Gurudwaras and Mosques. Famous Hindu Temples are Sholophok Chardham, a giant statue of Lord Shiva. 12 Replicas of Jyotirilingas in same complex. This complex also have Sai baba Temple, Kirateswar Statue, Sai Dwar, Kirat Dwar, Shiv Dwar.
Another important Hindu Pilgrimage site in the state is Kirateswar Mahadev Temple, which comes to life on Baba Chaturdashi Festival. This Temple dedicated to Lord Shiva and has some connection with Mahabharata. Christianity in Sikkim also has a special place as every city of the state found one or two famous Churches.
Some of the most famous Churches are Hope city Church and St. Thomas Church in Gangtok, Sacred Heart Churche in Pedong and St. Merry Roman Catholic Church. Some famous Mosque and Gurudwaras are Barelwi Jama Masjid, Nanak Lama Chungthang, Sarva Dharma Sthal and Baba Harbhajan Sing Mandir.
Lakes And Village Tourism In Sikkim
Among abundant natural surprises Sikkim boast plenty of natural beautiful Lakes that has truly popularity among tourists. Beside lakes these places offers a relaxing calm environment that attracts people most.
Among these pleasant lakes the famous one is Tsomgo lake at the height of 12,400ft surrounded with the snow capped mountain. The lake most of the time in winter stand frozen.
It become clear at spring and loud with chirping of birds around the lake. Cholamu lake is the highest altitude lake in the world. It stands on 17,490ft near Indo-China border. Tourists need permits to enter this risky terrain.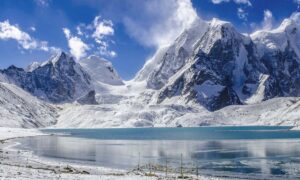 Another high altitude famous lake called Gurudongmar Lake. It is a sacred place of Hindu and Buddhist. The lake was touched by great Guru Padmasambhava. Another sacred and popular lake is Khecheopalri lake. This site is also blessed by Guru Rampoche. It is one of the largest water body in Sikkim.
Lakes of Sikkim plays as ornamental attire for the natural plethora. Other interesting lakes are Bidan Chu or Elephant lake, Green lake, Raj Kathok Lake, Laxmi Pokhari lake, Menmecho lake and Tso Lhamo lake are most popular. These places can be reached through Trekking also.
Village Tourism or Home stay for traveler are introduced by Sikkim Tourism some years back. Till then it became popular among mainly trekkers. Village tourism is a part of nature tourism and experiencing everything of local lifestyle, their culture with humble hospitality of simple villagers.
The village tourism offers staying with their homes dinning with them, witnessing their daily house hold and taking part of their daily chores like milking cows, making butter, fodder collection, feeding cattle and also harvesting.
Also can take part of their festivals, dance and hang on all the day with new surprises. All that waiting for tourists in Village Tourism are crossing cane and bamboo bridges, visiting traditional villages and preparing traditional foods also.
Wild Life Tourism In Sikkim
The thick dense forest of Sikkim from tropical to the alpines, provide secure shelter to more than 4000 species of plants, animals and birds. From low lands moving upward to the high lands, that is considered to be the Alpine Zone.
The Yaks are truly prominent and spotted in this zone. Barking Deer the common animal of the state also found here along with Snow Leopard, Wild Ass, Himalayan Black Bear, Red Panda, Blue Sheep and other animals. Juniper, Cypresses and rhododendron also grows in Alpine zone.
The State also known as bird watcher's paradise and 550 species of bird life found here. West and South part of Sikkim mostly well-stalked for bird lovers including Orange Gorgeted Flycatcher, Red Faced Leocichla, Red Headed Bullfinch, Phylloscopus Maculipennis, Tit Babbler.
Rare sighting migrant duck and some of rare species like Black Nacked Crane and Black Tailed Crane are found in Khecheopalri lake in West Sikkim. Around 650 species of Butterfly are also an unique feature here.
Due to such extensive flora and fauna, Government classified the dense animal populated region to wild life sanctuary and National park for protecting the wild life and promoting the wild life tourism of the state.
Adventure Tourism In Sikkim
Sikkim is always famous of incomparable adventure tourism that can not be ignored by any adventure lover. The State offers enough challenging places like spot 28 major mountain peaks, 80+ glaciers, 227 high altitude lakes, 5 major hot spring, 100+ rivers and streams and many more.
Adventure lovers who love mountaineering, trekking, river rafting, mountain biking and many more adventurous activities, can not deny Sikkim as an adventurous kingdom.
Most popular adventure in the state are :
Trekking and Hiking
River Rafting
Mountaineering
Mountain Biking
Skiing
Paragliding
Hand Gliding
Among the famous trekking Green Lake trek, Village trek, Monastic trek, Singalila trek, Goechala trek and Dzongri trek are popular most. Tista and Rangit river site is the river rafting places.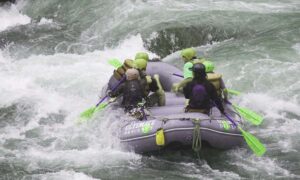 Sikkim is became the best place for Moutaineering in India for world's 3rd highest peak Kanchenjunga, 8568meter height, and other most famous peaks are Frey peak (5830 meter), Mt. Jopuno (5603 meter), Lama Wangden (5868 meter), and Brumkhangse (5635 meter).
As the rain fall season begins in winter gradually depositing snows to make the sharp sloppy surface that is ideal for skiing. In the winter between November to March is the ideal time for all the ski lovers to make their way to Yumthang Valley in North Sikkim, 25 km away from Lachung and Phuny valley, 18 km away from Lachung.
The Paragliding can be enjoyed near Gangtok and Hand Gliding in Yumthang and Jorethang in West Sikkim. Tourists should not miss this opportunity to experience a bird's eye view of entire state from the sky,
Frequently Asked Questions And Answers
Ques 1. Which is the best month to visit Sikkim ?
Ans 1. Sikkim can be visited around the year except Monsoon. Nature lover can visit Sikkim on Blooming months from March to May and also October to mid December for clear view of Kanchenjunga. Adventure lovers can try on winter for skiing and other activities.
Ques 2. Which month is snowfall in Sikkim ?
Ans 2. Mid November to February is the right time to enjoy snowfall in Sikkim. Tourists can enjoy snowfall in Yumthang valley, Lachung, Pelling and some times also in Gangtok.
Ques 3. Why is Sikkim famous for tourism ?
Ans 3. Sikkim is famous for mountaineering and tourists from all over the world visit here for the third highest peak in the world Kanchenjunga. Sikkim boast huge variety of natural assets that allure all type of tourists from the world.
Ques 4. Which is the coldest month in Sikkim ?
Ans 4. January is the most coldest month in Sikkim and Temperature usually stays around 19 degree F.
Ques 5. What is the religion in Sikkim ?
Ans 5. The most of people in Sikkim follows Hinduism in Sikkim. Tibetans and Bhutias mostly follows Buddhism in Sikkim.