Tarkarli Trip On White Sand And Crystal Clear Pristine Beaches Never Disappoint Tourists
Tarkarli is a little hamlet which is full of scenic beaches surrounded by hills and lush greenery stretches along the coast of Konkan on the shore of Arabian sea in the western part of Maharashtra.
Tarkarli Beach Maharashtra
Tarkarli tourist spot is an offbeat weekend destination from Mumbai and Goa. This little hamlet offers plenty of water sports adventure activities. Tarkarli beach is located in to the inter section of river Karli and Arabian sea. The river flows through the dense forest and a boating experience on the river to explore the serenity of the forest and backwater where it flows in to the Arabian sea, must be truly adventurous.
The specialty of Tarkarli beach is crystal clear pristine water in the sea with lined up Suru trees are simply stunning and relaxing also. In addition the splendid hue of setting sun makes you feel out of the world in your mind and soul. Another attraction here is jumping dolphins around the sea just mind blowing surprising.
A near by small fisherman village called Deobagh is one of the popular spot for relishing sea foods and boating on the sea. The local sea foods like Crabs, King Prawn and Shark curry is famous delicacies here. Fisher man here help tourists for boating in the deep sea.
Best Places To Visit In Tarkarli
Apart from beaches tourists also enjoy mesmerizing sight seeing around Tarkarli. Most famous and historical monument that is popular most sea fort in Maharashtra is Sindhudurg Fort. It is made by Chatrapati Shivaji Maharaj in 16th Century.
In Marathi the meaning of Sindhudurg is 'Constructed fort on the ocean floor'. It was built in the reign of Chatrapati Shivaji and architect by 100 Portuguese architectures which is an masterpiece of art. The history of Sindhudurg fort also attracts history lovers and scenic beauty just incomparable.
Another Important place is Shiv Chatrapati Temple, which is made by the son of Shivaji, Rajaram. It is located in Sindhudurg District and one of the devoted historical place for Marathi. This place is dedicated to Famous Marathi Emperor Chatrapati Shivaji.
The Most enthralling thing is to explore the live evidence of Shivaji. A stone Idol of Shivaji on kneeling yogic pose is the prominent attraction of the place. Apart from this a real footprint of Shivaji, which is sculpted in a dome and his palm prints on slabs of dried lime stone must be worth full experience.
Another popular natural paradise and also religious important place is Dhamapur Lake. Enriched with lush greenery and crystal clear water with birds chirping around just ideal for finding solace within nature in a boat ride. The landscape here idyllic countryside, spread over the areas of 10acres, where can be found thatched huts near the lake.
Tourist can also visit a famous near by temple called Bhagwati Temple. The surrounding landscape is covered with lush greenery and beautiful natural vista with a soothing pleasant touch. Nature lovers love this spot for their refreshing escape and mindful moments cherished for long.
Best Beaches Around Tarkarli
Apart from beautiful Tarkarli beach, Many famous beaches also be found around the destination. One of the most adorable beach called Achara Beach is a paradise for adventure lovers. Many types of water sports offered in the beach like boat riding, parasailing in boat, kayaking and many others.
Other major beaches from tarkarli are Nivati Beach, Chivla Beach, Devbagh Beach and Tsunami Island Beach is a must visit for the tourists. Nivati Beach is famous for it's glittering white sand and turquoise Water beautiful picturesque beach.
Devbagh Beach is the confluence of Arabian sea and Karli river and blessed with the breathtaking green lush landscape. Golden hue of sun set also an overwhelming gift of nature.
Tsunami Island and Beach is famous for adventure tourism and offer plenty of water sports and activities including Scuba diving, Banana boating, Jet skiing, Bumper boat ride, Kayaking and parasailing.
Scuba Diving in Tarkarli
Scuba Diving is one of the most enjoyable experience in water sport activities. It gives an opportunity to explore underwater world. It is surely an fun fill excitement which gives immense satisfaction and unforgettable moments that cherished for long.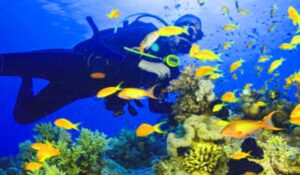 One of the popular Scuba diving site in Tarkarli is Joshua's Scuba Diving Site.
Three major highlights for Scuba Diving are
Scuba Diving allows to deep 5 to 15ft to watch the underwater life
Get a 1.5minutes video of your experience
Assistance of a professional diver with all gear and equipment for safety
Adventure lovers can enjoy the best 30 minutes of under water experience and fun filled exciting moment of exploring variety of aquatic life hovering around and mesmerizing with taking videos to cherish for a life time.
Tarkarli is an amazing tourist destination few miles North from Goa in Sindhudurg district and 540km away from Mumbai in Maharashtra. The place have plenty of hotels and home stays around the years and gaining popularity day by days. Adding to it's glory adventure sports like Scuba Diving, Jet Skiing, Parasailing add the another feature as an entertainment hub.