Lachung The Charming Little Hamlet Of Sikkim
Lachung, one of the most stunning natural wonder land located in North Sikkim, hanging on the lap of snow capped Himalayan mountain.
Lachung The Queen Of Sikkim
Lachung is an epitome of scenic beauty surrounded with tall dark mountain, glorious water falls, variety fruit orchards, scintillating glacial river that magnetized all visitors with an awesome feelings. This small town of Sikkim located at the height of 8600ft above sea level and attracts tourists for it's unique vibrancy.
Tourism in Lachung is offering plenty of attraction and adventure variety for tourists. Visitors also interested to know about the culture and tradition of the local people. The main population of the region is Lepchas and Bhutias. They are follower of Buddhism and till date they maintain their tradition and culture with full respect.
Lachung is one of the must visit place for travelers who visit Sikkim and also those mainly who want to visit Ziro Point and Yumthang Valley. This charming little hamlet attracts visitors with it's magical festival of Saga Dawa in the month of June.
The festival is one of the Buddhist main festival where they celebrate the life cycle of Buddha like Birth, Enlightmant and death. The vibrancy of colors and colorful ornamentation show case the harmony between life and destiny that is describe through their dance and rituals.
The Famous Tourist Spots In Lachung
Yumesamdong : The way from Lachung to Yumthang Valley is another hidden gem is Zoro Point or Yumesamdong Valley. This spot is not in regular itinerary but this spot is a must see destination for adventure lover. The valley is also known as Valley of Flowers because of it's rich meadows and fragrant breeze.
The Yumesamdong valley is located on the Lachung river and popularly known as Zero Point, that means hindmost frontier of the civilization. There are no road further, only the landscape completely covered with snow peaks that disappearing in blue sky.
The valley is adjacent to the China boarder, cause tourists need an inner line permit to visit the spot and that can be obtained from the Tourist Information Center. Zero point is just 23km away from Yumthang Valley and situated at the altitute of above 15000ft.
Zero Point is very popular destination among trekkers because of it's immense natural beauty and unobstructed view of snowy peak.
Yumthang Valley : The most famous and popular destination in Sikkim is Yumthang Valley. Located in North Sikkim at the height of 3564 m. Popularly known as "The Valley Of Flower" because of it's unique geographical location, above the "no tree grow" zone.
The long Stretches of land covered with flowery meadows, slops of mountains around the valley and scented ambiance makes it an earthily paradise for tourists. The scintillating Tista adds an ornamental aura within this heavenly natural vista.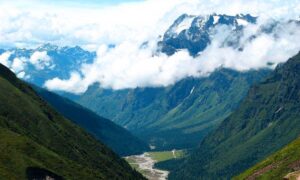 In winter Yumthang Valley totally covered with 6ft to 8ft snow and adventure lovers also enjoy variety of adventurous sports like skiing with unbearable cold. Other wise the best time to enjoy other activities like trekking, yak riding, or boating is April and May during summer.
About 7km to 8 km away Shingba Rhododendron Sanctuary also worth seeing for varieties of 38 types Rhododendron can be explored. Yumthang Hot Spring also another stunning spot on the way of Yumthang Valley. The amazing hot water even in cold weather can heal also and believed to be the medicinal properties presence in the water.
Tourists also like to visit the Shiva Temple, 7to 8km from Yumthang and Zero point 23km away from Yumthang which is situated at the altitude of 15000ft above sea level. Tourists need to collect a permit from administration to visit Zero point as it is near Indo-China Border.
The recommended time to visit Yumthang valley is April and May. But tourists can enjoy cold and snow can definitely visit in winter also. Tourists can take a taxi from Lachung in morning to enjoy whole day in Yumthang Valley.
Mount Katao : Another awesome offbeat destination from Lachung is Mt. Katao. Located in North Sikkim, 144km away from Gangtok and 28km away from Lachung. Not all tourist but adventure lovers and mountaineers love to explore this place. It has a splendid view of Mt. Katao peak.
The place from where the peak is located is under army surveillance and need a permit to visit. The surreal mountain gifted a splendid view of this giant peak and it would be so surprising that couldn't be afford if you miss. Adventure lovers love this point because they can enjoy skiing, snow boarding, snow tubing during winter.
Beside the picturesque view tourist can enjoy a water fall on the mid way and explore many snow clad peak from there. The valley is also covered with Poppy, Primula and Rhododendron that adds majestic look for the land scape.
Best time to visit the place could be March to June. Adventure lovers can opt for the place in winter for skiing, snow boarding and sports.
Frequently Asked Questions And Answers
Ques 1. What is Lachung famous for ?
Ans 1. It is famous for incomparable natural beauty of surrounding Himalayan snow capped mountain and Tista flowing between the village at the height of 9600ft above sea level, an charming hamlet of Sikkim.
Ques 2. Is it worth visiting Lachung ?
Ans 2. Lachung is a base spot for visiting Yumthang Valley, Katao, Zero point and many important places in North Sikkim. Lachung is also famous for Saga Dawa Festival celebrated with vibrancy in June and one of the main attraction of tourist globally.
Ques 3. Do we need permit for lachung ?
Ans 3. Yes, Tourists need permit for Lachung and Nathula pass visit and can get it from local tourism office also.
Ques 4. What is the best time to visit in Lachung ?
Ans 4. The best time to visit Lachung is summer from March to May. The famous Festival of Saga Dawa is held on June and tourists from all over the world visit Lachung this time to enjoy the festival.
Ques 5. What is the nearest station to lachung ?
Ans 5. New Jalpaiguri Station is the nearest railway station from Lachung and from Gangtok, cab or share Taxi available for lachung.