Udaipur Lakes And Palaces Are Most Vibrant Charm In Rajasthan
Udaipur the southern most part of Rajasthan that famed with lakes, palaces and culture join hands to create the truly reflection of royal grandeur of India. The city is famous for beautiful lakes, royal palaces, vibrant culture and rich heritage with mouth watering cuisines allure tourists around the world since ages.
Udaipur City Of Lakes
The plethora of lakes with royal palaces enhance the beauty and royalty of Udaipur Which is also famously known as 'Venice Of The East'. Tourist love it's royal charming luxury of floating on the lake in a boat between immense natural beauty.
Lake city Udaipur located in the Southern part of Rajasthan, at the height of 598meter above sea level. The most adorable tourist spot in Rajasthan not only the hub of lakes it is also famous for historical royal palaces and forts which are the magnificent evidence of architectural masterpieces.
The splendor and grandeur of the marvelous palaces are the glimpse of royal life style of Maharajas and their families of Rajasthan. The tranquility and luxury of royal Rajput dynasty are remarkable but they have also left the history of unforgettable sacrifices that are also breath taking sensational. The city was built by Rana Udai Sing II of Mewar.
The tour is incomplete without visiting the Hindu ethnic temples those are also the the land mark of the history of the city. Rajasthan tourism is also famous for pilgrimage tourism and the architectural value of these temples are also time less. The stories behind these temples attracts tourist from all over the world for blessings of divine and touch the soul of Udaipur.
The Best Places To Visit In Udaipur
Udaipur is one of the most popular tourist place in India. Tourists can enjoy boat riding in the various lakes, trekking, shopping, jungle safari and adventure tourism also. The must visit places are pichola lake, Fatehsagar lake and both are artificial lakes made by Royal family of Mewar.
City plalace, Lake Palace, Sajjan Garh Hilltop Palace, Beautiful gardens like Gulab Bag, Nehru Island Garden, Saheliyon Ki Bari among the best places in Udaipur. Nearby places in a short distance major attraction of Chittorgarh Fort and Kumbalgarh Fort.
City Palace Udaipur
One of the best fabulous architectural Royal grandeur City Palace in Udaipur, which boast another 11 palaces with in it's boundary. This palace was started to built under the reign of Maharana Udai Sing II and there after Continued by 76 generations of Sisodia Rajput or SuryaVangshi Rajputs from 1559 onward to be completed.
The City Palace is the most largest complex of Rajasthan and an evidence fabulous architecture. It is spread upon 244m long and 30.4m height. The grand white structure filled with dome, towers and arches the most popular tourist attraction in Udaipur Which is consider to be the residence of Royal Family.
The city Palace located on the Lake Pichola, the most part of the Palace converted into a Museum. Situated on the Center of Udaipur and beside another famous land mark of the city is Jagdish Temple. It is a beautiful Hindu temple and an Explicit evidence of Maru Gurjara Architecture.
Lake Palace Udaipur
Historical Lake Palace situated on the heart of Pichola Lake which was built on 1746 as a residence of royal family of Mewar. It was official residence of the rulers in winter and now turned to be a hotel looks like floating on the turquoise water occupying four acres of Island on the lake.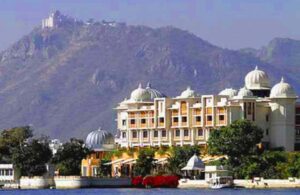 Another two palaces called Jag Mandir, which is situated on another island of Lake Pichola and another palace called Monsoon Palace or Sajjan Garh Hilltop Palace is a must visit for the panoramic view of the city.
Things To Do In Udaipur
The top sight seeing also include of Pichola Lake and Fateh Sagar Lake, both are made by royal family of Mewar and also popular tourist place. Apart from luxury boating tourist also can horse riding, Camel riding on Dudh Talai are some of the best things to do here.
Tourist can enjoy puppet show, the famous Ghoomar dance and also some festivals like Mewar Festival Gangour Festival and Silpgram Utsav in the city. A trekking trail to Kumbalgarh Fort also available for the tourists.
Frequently Asked Questions And Answers
Ques 1. Why is Udaipur famous for tourism ?
Ans 1. Lake city Udaipur is famous for it's royalty of Palaces and Lakes. Famous City Palace, Lake Palace, Pichola Lake, Fateh Sagar Lakes are some major tourist attraction in Udaipur.
Ques 2. What is special in Udaipur ?
Ans 2. Udaipur boast plenty of beautiful lakes and palaces for which it is also known as 'venice of the East'.
Ques 3. Which is the best season to visit Udaipur ?
Ans 3. September to March is the best time to visit Udaipur. To avoid heat winter vis the best season for visiting Rajasthan.
Ques 4. Why is Udaipur called romantic city ?
Ans 4. Surrounded by Aravalli range and plethora of lakes and palaces Udaipur offers luxury boating on the lake with beautiful natural scenic ambience. Royal emperor of Mewar also made lake city and other luxury and romantic palaces, now those are converted as luxury hotels which offers honeymoon packages for couple.
Ques 5. Is Udaipur a Honeymoon place ?
Ans 5. The lake city Udaipur offers various of Honeymoon packages for tourists. Udaipur is marvelous honeymoon place in Rajasthan.