Top 5 Destinations From Mumbai that Never Abundant By Tourists
The top 5 destinations from Mumbai where people love to spend their vital special moment and holidays. The attraction of these timeless fabulous places win the hearts of Millions. Ajanta Ellora caves are listed in UNESCO World Heritage site since 1983 for Buddhist Architectural Masterpiece.
Ajanta Ellora Caves Top Most Ancient Rock Cut Art In Mumbai
Ajanta and Ellora are the spectacular evidence of Indian Rock-cut art and architecture. While Ajanta signifies of beautiful paintings on rock cave and walls, those all about the theme of mainly Buddhism of that time social structure. Ellora represent mostly sculpture and architecture on the rock of that time religious evidence of Buddhism, Jainism and Hinduism.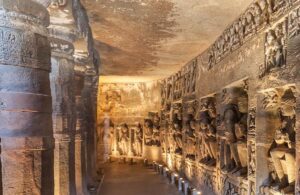 Ajanta and Ellora mostly named together for the reason both located at Aurangabad in Maharashtra and both are same important of their ethnicity and fame. Ajanta and Ellora is separated with a distance of 100km to each other.
Ajanta is a structure of 30 caves in a horse shoe shaped stretch of rock cut from a hill. The hill facing to a stream called Waghora and all caves are connected to the stream with a upward steps. This cave is named afted the near by village called Ajanta. These caves decorated with magnificent paintings of Buddha with description of stories about previous life of Buddha.
Starting around 2nd century BC, these caves are built in to phases. After the first phase 2nd group of caves built around 400 to 650 AD. Buddhist Monks are used these caves for their religious prayers and also staying there in monsoon season for shelter.
Two types of caves found in Ajanta, which one is Vihara and another called Chaitya griha. Viharas are used for living and prayers, where Chaitya griha is big halls used for prayers. Ajanta was abundant for 300 years before Emperor Harishena of Vakataka Dynesty. Because Hindu religious people were started to became main population and Buddhist Monasteries became abundant that time.
Ellora caves are comprises 34 monasteries and temples built between 5th to 10th centuries. It was built by cut the rock side side in a wall of a huge basalt cliff which extended over more than 2 km, is a finest example of Indian rock cut architecture. Ellora caves an evidence of Buddhist, Jainism and Hinduism rock art of ancient era. Buddhist monasteries are built earliest between 5th to 8th centuries. These structures are mostly Viharas or monasteries for living and prayers also. The most famous Buddhist cave is called Vishwakarma cave which are popularly known as Carpenter's cave.
The Hindu caves of Ellora were completed between mid 6th to 8th century. The Hindu caves are named as Kailasha, the Adobe of Lord Shiva, after the name of Mt. Kailash. It is a multi storied temple built with cut only one single rock. The Kailasha has taken 100 years to be completed.
The Jain caves are built in the last phase of Ellora. The temple is smaller but the beautifully curved pillars of the Indraprastha, the lotus on it's ceiling, the shrine called Chota Kailasha and the sculpture of Yakshini and Durga contain some intriguing and detailed art work.
Elephanta Caves In Mumbai Top Most Buddhist Architectural Masterpiece
Among top 5 destinations from Mumbai, just one hour ferry service and you are in the world heritage site of Elephanta Caves. This stunning architectural masterpiece is an all time tourist hub in Mumbai.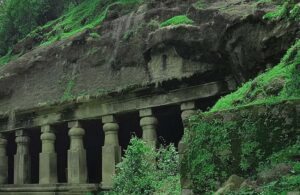 The stunning beauty of middle of Arabian sea this place an all year tourist attraction from Mumbai. The evidence of Rock cut art of ancient era is an marvelous architectural land mark in Indian history. An adventurous journey through the Arabian sea with a boat is also another rocking experience for the tourist. People comes here to be the witness of the masterpiece from around the world.
This all time Rock Cut masterpiece definitely placed among the top destination of tourist attraction from Mumbai for ever. Know more for details.
Lonavala The Top Most Ever Green Destination From Mumbai
Lonavala is the all time best popular destination from Mumbai. It is just 82km away from Mumbai and best monsoon favorite destination from the city. Lonavala is a small hill station which is famous for waterfalls, green lush valley, fort, lakes, view points and also adventure activities with stunning natural beauty.
It is an popular nature escape from hasty city life of Mumbai. Easily accessible by road and railway Lonavala became the most attractive destination for tourists of Maharashtra also. Read More.
Tarkarli The New Top Pristine Sea Beach Attraction Near Mumbai
One of the most natural retreat among new discovered is Tarkarli sea beach in Konkan region. The series of beaches that offers crystal clear water, white sands and abundant pristine in nature still far away from commercialization. This is an ultimate opportunity to relish the gift of real natural beauty that is totally untouched, undiscovered and unexplored.
This little Hamlet of Maharashtra offers plenty of adventure activities like scuba diving, Jet skiing, kayaking, parasailing, back water boating and many more exciting attractions for tourists. Tourists love it's calm and cleanliness with relaxing environment between Suru trees, white sand and crystal clear sea bed. The popularity of the destination is increasing by minutes and it is going to be one of the top destination from few miles away Mumbai. Read More.
Matheran is the Top Most Eco Friendly Destination from Mumbai
Matheran hill station is not just regular common hilly areas, it is the first eco friendly hill station with ziro vehicle zone. Well Known as 'Cutest Little Hill Station Of India' located on the Western Ghat range at the height of 800meter above sea level.
Th place is admired for a calm scenic charming for rest relaxation from hasty city life from Mumbai. The atmosphere of the place is always comfortable but tourists much prefer in rainy season for fabulous greenery and fullest of water falls enjoyment. It is also trekker's paradise but also fabulous picturesque zone for photography.
The mesmerizing sunrise and sunset zone of the region with pollution free refreshing worthy time pass for tired monotonous souls. Matheran Toy train also a fabulous attraction of the hill station which runs through the forest most of it's journey. Read More for details.
Frequently Asked Questions And Answers
Ques 1. Who built the famous Ajanta Ellora Caves ?
Ans 1. Between 650 AD Buddhist monks under supervisory of Vakataka King Harisena Ajanta Ellora Caves were built.
Ques 2. Where is Ajanta Ellora situated ?
Ans 2. Ajanta Ellora is Famous tourist spot in Maharashtra. Situated 350 km from Mumbai.
Ques 3. Which God is dedicated to Ajanta Caves ?
Ans 3. Ajanta Ellora Caves dedicated to Buddhist culture and deities of Buddha.
Ques 4. What are Ajanta Paintings Called ?
Ans 4. Ajanta Paintings are called Ajanta Cave Paintings and the created with the style called Tempera.
Ques 5. Who built Ellora Temple ?
Ans 5. The Ellora Temple was constructed in 600AD to 1000AD by Krishna I of Rashtrakut Dynasty.