Mizoram Signifies The Land Of Lusei Highlanders Still Unexplored Hidden Gems
Mizoram is one of the Unexplored hidden gems of nature which located in North-East India. The state is surrounded with 21 hills and spectacular natural virgin serenity.
Mizoram boasts about 21 hills ranges about 1200 miter highs above see level. It spread about 21,087 square km, border with Bangladesh in West and Myanmar in East and South. As it share 722 kilometer areas with international border and has international strategic importance.
Mizoram is surrounded with spectacular hills range, it's valleys and rivers that combination appeared the mystical adventure in every bend of the corners. The blue mountain or Phawngpui in local language is the highest peak in the region with the height of 2360 m.
Aizwal The Capital Of Mizoram
The Picturesque hill city Aizwal flanked in the North by the lofty peak of Durtlang. The hill city located on the steep ridges of hills with over looking the sylvan valley of the river Tlawng in the West and Tuirial in the East and South.
The hill city Aizwal is situated at 1132 meter above sea level. Aizwal is the capital city of Mizoram. It is also famous for it's exotic natural landscape of hilly region which streaching away through the horizon. Aizwal means "A field of wild Cardamom" and the name is originated since early nineteenth century when the village set up around the present site of Raj Bhavan.
In 1890 British Administration Established a Military Outpost the "Fort Aijal" and after that it became the set up for permanent settlement of Headquarters Of Mizoram. Due to the state capital Aizwal also the center of political and cultural events of Mizoram. Aiswal is also the seat of the state and commercial hub.
The Mizo civilization is Westernized and mainly Christian who are very warm and friendly for the visitors. The land locked state Mizoram has widely diversified landscape from Steep hill city Aizwal to valleys of Champhai and the majestic peak of the Blue Mountains National park.
The Famous Tourist Spot In Aizwal
One of the famous place to visit in Aizwal is Baktawng village. The man who holds Guinness World Record, Ziona Chana, for the largest family in the world. He has 39 wives, 91 children. 33 grand children and 14 children in law. Tourists also visit his place to watch how they stays as a family.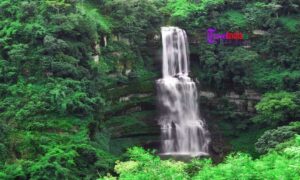 Thenzawl also famous for the most beautiful and highest water falls in the region. located 137km from Aizwal, Vantawng water falls descending from the height of 750ft. The gorgeous and majestic falls can be seen only from a distance but it is hardly matters because still it looks spectacular from the tower.
Vantawng water fall is most popular, spectacular and highest falls in Mizoram. It was named after the famous swimmer of Mizoram Vantawng, who was eventually died after fall from high. The water fall drive from the 750ft height and it is not safe to reach to the nearer, as it surrounded with dense bamboo forest also. But tourist can watch from a safe distance through a watch tower.
There is also tourist accommodation near the falls in cottage is available. Tourists should spend at least one day to enjoy a breath taking adventurous experience for life time. Few minutes drive from Thenzawl another water falls called Tuirihiau can be seen on the way.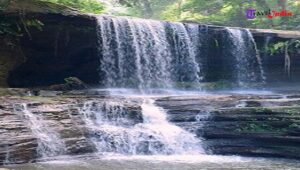 The Tuirihiau falls is upstream of the Vantawng falls. On the way towards Lunglei from Thenzawl reach to Vety farm. A few minutes drive from there can be reach to up in the Vantawng falls and a few turn up streams will be reach to Chawngchihi Cave. Walking more some times the sign board of Tuirihiua falls will show the steps to falls. A cave with water falls, this make it unique.
Another famous water falls known as Khawh Pawp is 6.5km from Aizwal. A strong water force jump to a hole through the rock which has created a wonderful mighty falls. After reaching the place 500m walking distance to the falls. Langpui airport of Aizwal is only airport of the state which connected to Guwahati and Kolkata.
Beside of Capital city Aizwal other famous towns are Champhai, Khawbung, Lunglei and Thenzawl are also significant tourist spot in Mizoram. The district of Champhai is also famous for Murlen National Park. The density of the park is so thick that is drawn comparison to the famous Amazon forest in South America.
Thenzawl district is famous for most beautiful water falls Vantawng which is 137km from Aizwal.
Flora And Fauna Of Mizoram
Mizoram also surrounded with many natural water bodies and lakes which are the natural shelter of wild life, birds and many amphibians. People cultivate vegetations and also fishing through this lakes. Famous lakes among them are Tam Dil, Palak Dil lakes.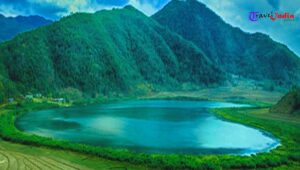 Tam Dil Lake is also known as Lake of Mustard. The lake is located the midst of thick vegetation ground. the water of this lake is so clear that it reflects the surrounding hills, trees, houses so clearly that it looks like a big mirror. In 2010 a new species of frog had spotted whose scientific name is Leptolalax Tumdil.
Palak Dil Lake is one of the largest natural lake in the state and wide range of wild life habitat in the lake. Exploring the wild life is another tourist attraction in Mizoram.
The most famous two National Parks in Mizoram are Dampa Tiger reserve and Murlen National Park. Dampa Tiger reserve is the largest tropical wild life Sanctuary in the state. It is a part of project tiger and vast variety of flora and faunas in the region. The park is known for the home to a large number of Clouded Leopard among other species.
Apart from wild life the park is also famous for 350 yrs old trees and thickness of it's vegetation. It is so thick that a rays of sunlight hardly could pernitrate through it.
Another famous park is Lengteng Wild Life Sanctuary located in Champhai district. It is named after Mt. Langteng which is second largest peak in Mizoram with the height of 2141m. Vavu the endangered bird of the state preserved in the park. Other animals like Leopard, Slow Loris, Stamp Tailed Macaque, Asiatic Black Bear also found in the park.
Rhododendrons and Cherries are prominently present by their existence in the park.
Important Sightseeing In Mizoram
To get a traditional ideas of the life style of the people, visitors must see the village of Falkawn which is created by the Department of Art and Culture. The villages has been modelled after the Lusei tribe inhabited there.
Tourists also love to visit Serchhip village, located at the central part of the state for Paragliding, Trekking and other adventurous activities. Most famous in Serchhip is natural sinkhole that attracts visitors in large amount. It is called Tuilut in local.
Tuilut is a sinkhole that is found near MZP Puk in the region of Ngentiang in Serchhip. Tuilut is a large crack on rocky ground which gobbled a stream named Pherpui without any known outlet. The sinkhole is known to be 40ft vertical down from it's mouth and 213m long stretch.
North Vanlaiphai is the most important historical place in Serchhip that is the only village to be bombed by Japanese air fighter in World War II on 28th March 1944 to destroy a hospital that is built in 1913 by British Government. But it stands still as witness of the incident and British rule.
Top Things To Do In Mizoram Tour
As Mizoram is a vast rocky hilly region with variety of flora and faunas, valleys, water falls, caves and mysterious surprises for explorer. Adventure lovers enjoy their moment with Paragliding, river rafting, mountaineering, cycling through the riff and also trekking. Tourists also rejuvenate their hunger with mouth watering and traditional cuisines of the region.
Frequently Asked Questions And Answers
Quest 1. Is Mizoram Good for travel ?
Ans 1. Yes. There is no problem for traveling in Mizoram. Local People are very helpful and their warm hospitality will win your heart immediately after reaching.
Quest 2. Is Mizoram Alcohol free ?
Ans 2. No. Mizoram is totally alcohol prohibited state since 1997. Alcohol sell or consumption is not allowed.
Quest 3. What is very famous in Mizoram ?
Ans 3. Mizoram is less known and unexplored natural paradise. Tribal culture and their isolated lifestyle, festivals, crafts are famous in Mizoram.
Quest 4. What is the best time to visit Mizoram ?
Ans 4. After monsoon the weather become clearer and pleasant to travel around. October to March is the ideal time to explore the hidden beauty at it's best in Mizoram.
Quest 5. Is Mizoram costly for travel ?
Ans 5. Yes. Mizoram ranked 2nd most costliest state in India.