Baul Songs Are Melodious Cultural Roots Of Bengal Wins The Heart Globally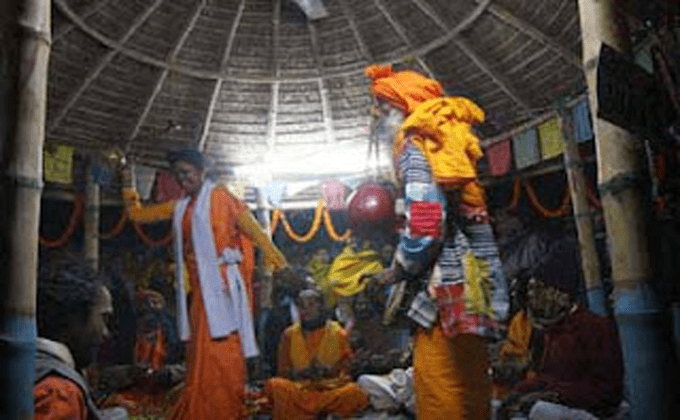 Baul songs are melodious lyrics, composed by the simple villagers orally for begging foods from others as a profession which became famous as 'Baul Songs'.
Baul Songs Are Simple Musical Folk Songs
According to the history around 15 century, Baul songs are originated from Bengal. Earlier It was not so popular among people or not reached publicly so much. But later it was started to reach beyond of it's boundary at the time of most famous Baul Lalon Fakir. He started to present Baul songs as folk songs and a form of modern fusion with real rural language.
Baul songs are the culture of rural Bengal which celebrate celestial love in very earthy terms. These songs described as the declaration of love by the bauls to their bosh-tomi or life mate. Actually Baul culture arrived from a profession called 'Viksha' or Begging.
In "Vaishnob' culture people believed that they are the part of Lord Krishna and they sing songs of love in the name of Krishna. Villagers offers them food happily instead, for their living. They are devotee and basically very poor but they have no demand to any earthily materials or luxury living. They sing from their heart with very easy and touchy language. Some times they also cry with their songs and touches hearts of the millions that way.
Life style Of Baul Songs Folks In Community
There are two types of Bauls found in the community. Some are called Ascetic, who left family life and others live with their family and children.
Ascetic Bauls leave family and society, survive on alms. They move from places called 'Akhda' where they stay for some times. They carry shoulder bag called 'Jholas' for alms. They are also treated as 'jyante mara' or Dalits. Ascetics are associated with more than one "Seva dashis", the women called service slaves, with him in the act of devotion.
Those who choose family life live in a secluded part of the village with their family. They stay separated from the other villagers and follow some rituals as a baul community.
Baul singers made their lyrics so touchy because of their innocence and pure expressions of easy language from the core of their heart. Aroma of real Baul songs derives from local languages with original tune that made them unique. Many types of musical instruments also used to make their unique melodious tune.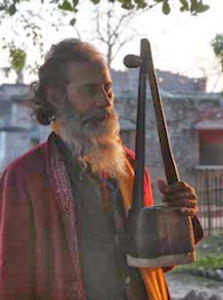 The Instruments they use are : 'Ektara' which is single string instrument and 'Dotara' is double string instrument. Beside this 'khamak', 'Duggi', 'Dhol' and 'Khol', "Khartal' and "Manjira" and the Bamboo Flute also uses. They also wear in their dance performance is called 'Ghungur' on their feet.
Baul became famous from the 19th to 20th century and well known by the world that time. But even today some bauls also found in far west Bengal villages singing with their jholas for their daily needs.
Baul Songs In Baul-Fakir Utsav
Gorbhanga village in Nadia district, West Bengal, is the home of many Bauls. An festival called 'Fakiri Utsav' held every year 2nd week of January. Performers come from many places for Baul, Fakiri and Qawwali music to perform. Tourists from whole world are gather for enjoy the event and warm hospitality of the villagers. The festival celebrates the Baul Philosophy of the quest for the Divine through love for humanity.
In the memory of famous poet Jaydev, a Baul fair is held every year in Kenduli, the village of Birbhum, called Jaydev Mela. At the time of Makar Sankranti, Jaydev Mela is the famous fair for baul sangeet. Lots of bauls gather to perform baul songs from different parts of the country. Baul songs also very popular among the foreigners. They came from different part of the world and gather to enjoy the baul fair and melodious baul songs.
Another famous baul spot is Poush Mela of Shantiniketan. Every year most popular and famous fair Poush Mela held in Shantiniketan from many decades. It's a well known place for baul sangeet. All famous baul shilpi came from the world and all baul sangeet lovers also gather from different parts of the Universe.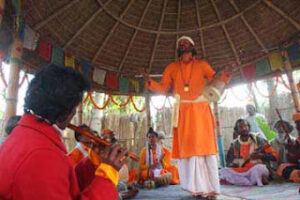 A Baul-Fakir Utsav also organize every year in Kolkata where 24 hours sangeet utsav performed by the bauls, comes from all over the Bengal and Banladesh also.
Recently baul songs fusions are became more popular among the young people of new generations. Beside the traditional baul songs Artist like Kartick Das Baul, being a traditional folk singer, he use baul songs with folk songs together a fusion of new version of modern Baul folk songs which is widely accepted by the folk song lovers. Not only India, Western Bauls in America and Europe under the spiritual direction of Lee Lozowick, a student of Yogi Ramsuratkumar, are also spread folk songs quiet differently but spiritual practices of the east is well maintained.
What is the difference between folk songs and Baul songs ?
This question is arising many times but there is actually not huge difference between Folk Songs and Baul songs. Main difference is that folk songs are organised as folk songs. That are well recognized and crufted as songs. But Baul songs are just like ordinary form of speech which villagers talk to regular basis and those simple and rough language has given a simple tune of natural melody that later taken as song.
Another big difference is that, although the word 'Baul' is known in Bengali text as old as 15th century but till 20th century Baul songs were not very popular to the people because of lac of written content of Baul songs. Baul song's lyrics are composed and performed orally as daily talking and they haven't bothered to write it down.
But baul songs also a part of folk songs. The simplicity of the Baul songs made them different and unique from other folk songs as 'Baul's' songs. Because it is performed by only a particular group of people called "Bauls".
Frequently asked Questions and Answers
Who are the Baul in India ?
Ans :Bauls" are called the simple villagers of Vaishnav caste poor people who sings melodious music, which is also composed by them orally, for begging foods as their profession.
2. What is Baul Dance ?
Ans : Bauls" are called the simple villagers of Vaishnav caste poor people who sings melodious music, which is also composed by them orally, for begging foods as their profession.
3. Who are called Bauls and Fakirs ?
Ans : There is no basic difference between Bauls and Fakirs. Both are poor and sing songs for begging. Both believer of God and also sings for God's name. Muslims called Fakirs and Hindu Vaishnav called as Bauls.
4. What is Baul Folk Songs ?
Ans : Baul songs are itself local folk songs. It is one type of "Bhakti Sangeet" which related to Sufi Songs. Bauls are devotees of God. They sing for God's name in natural form to please God and others.
5. Why are Baul Songs popular even today ?
The reason of the popularity of Baul Songs, it's natural pure emotions. The lyrics of the songs are so natural that Bauls make it spontaneously and orally. The pure sense that Bauls present through their songs that touch every one's life and they feel their own truth emotionally.