Kalikapur Rajbari — The Forgotten History Of 400 Years
Our destination is Kalikapur Rajbari (Palace) which is a piece of Bengal Heritage was built near about 400yrs ago, now almost the structure of the palace, silently describe the past charming history.
Kalikapur village is a small village surrounded by jungles. It is similar to any other village in Bengal, where people are mainly farmers.
Kalikapur Rajbari History
According to the local history of Kalikapur Rajbari, that more than 350yrs ago, Paramananda Roy shifted to Kalikapur with his family and 7sons. After acquiring large acres of fertile lands and vast jungles, he became the Zaminder of the area.
The Forgotten History of Kalikapur Rajbari remined us that the estate of Paramananda was spread up to the coal belt in Ranigunj. After settling down in Kalikapur, Paramananda constructed 7buildings for his 7sons.
His eldest son Kailashpati took over the baton from his father and during his tenure the Roy family was flourished. eldest son Kailashpati took over the baton from his father and during his tenure the Roy family was flourished.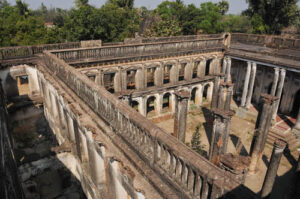 God fearing person Paramananda built temple of Durga, shiva and Radha vinod in Kalikapur. These are also marvelous work of art with outstanding architecture. The Radha-vinod temple was constructed on more than 3bighas of land.
But he could not inaugurated the temple because unfortunately on the night before the scheduled ceremony, Kailashpati was died. The King of Bardwan, continued a good relationship with the Roy family.
They constructed a building in the village, known as "Chandni Bari", where the king enjoy full moon nights when he collects taxes from them. It is also known that due to the good relationship with the British Government, Kailashpati allowed British for Indigo farming.
Our local farmers forced to do it instead of bowing crops of Paddy in their own lands. After Kailashpati , Dewan legacy was stopped to continue, as he had no son and since then the empire was left alone.
Also Read — Kalikapur Historical Palace
Architectures Of The Kalikapur Rajbari
The destroyed part of the Forgotten History of Kalikapur Rajbari, are carried the evidence of 400yrs older history and architectural masterpiece. The main palace complex covering over huge 20bighas of lands, has 7 separated buildings which Paramananda was built for his 7 sons.
All the building is connected to each other with a long corridor. The buildings are three storied but stands much taller than modern five storied buildings are we see in modern cities.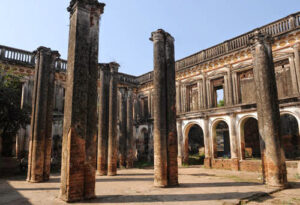 All 7 buildings and three temples , one of which is Durga Dalan and a Nut Mandir located inside the main palace. To withstands earth quake and floods they placed the bricks with an unique geometric pattern and special natural adhesive to build the great strength.
The 400 yrs ago also, the Terracotta bricks was used to strengthen the walls of Kalikapur Rajbari. A local pujari said they used to mix tamarind seeds, a specific variety of molasses , leaves of a certain trees, alluvial soil and some local herbs to create an exceptionally strong bond that would hold together over centuries.
No marbles was found, instead they used conch shells and dust to add shine to the plaster and smoothen to the floors. Colours also used to fill up the ornamental pattern of the wall and ceiling, was totally herbals are taken from the herbs and flowers to make its shine forever.
There also used wooden beams to support the ceiling and corridor, doors and windows also made of fine teaks. Although its collapsed when the state was hit by the cyclone "Aila" in 2009, but it's main structures are still sound even after a several decades.
Also watch The Statue Of Unity for integrity and unity of India.
Frequently asked questions
Ques 1 : What is the Kalikapur Rajbari exact location ?
Ans 1 : Nearest town from kalikapur village is Sriniketan, in Bolpur, Dist. Birbhum. Kalikapur village is under Kangkalitala Gram Panchyat, of Bolpur Block, State West Bengal. Shantiniketan is famous tourist destination in Bolpur and just 4.4 km away Kalikapur village is situated. It could be a side seeing from there.
Address of Kalikapur Rajbari is HGJQ+MHJ, Kalikapur, West Bengal 713152
Ques 2 : What is nearest Rail station from Kalikapur ?
Ans 2 : Nearest Rail Station from Kalikapur is Bolpur Sriniketan.
Ques 3 :What is nearest bus stand from Kalikapur ?
Ans 3 : Basudha bus stand is the nearest bus stand, where could be reach from Bolpur bus stand. Kalikapur Palace is 10 min- 15 min. ride by Toto from there.
Ques 4 : How old are the Kalikapur Rajbari's history ?
Ans 4 : Kalikapur Rajbari (Palace) which is a piece of Bengal Heritage was built near about 400yrs ago.
Ques 5 : Is there photography allowed in the palace ?
Ans 5 : Out side the building around the palace any body can take photos but in side the palace you have a permission granted by the official care of the palace.