Hand Pulled Rickshaw Stand Alone To The Edge Of Extinct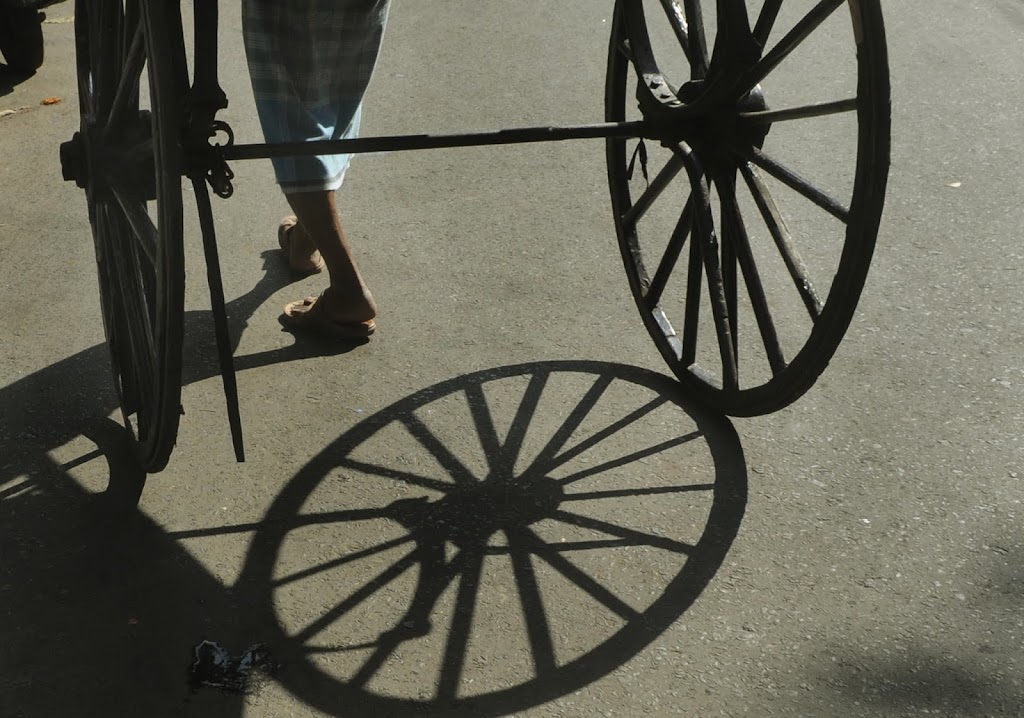 Hand Pulled Rickshaw was an Iconic symbol of Kolkata. But it is pulled off from street, now could be seen in some narrow lane in Kolkata. It was once prestigious vehicle in British period and also an essential vehicle for small distance.
Hand Pulled Rickshaw- The Edge Of Extinct
Hand Pulled Rickshaws are only seen in the lane of Kolkata in some areas now. Former Chief Minister Buddhadeb Bhattacharjee announced on 2006, the Rickshaws, would be banned soon from the streets of Kolkata.
The year old low cost middle class transport are in the edge of extinct now, because West Bengal Government has decided to rehabilitate the 6000 Rickshaw Puller and introduce modern vehicle for transportation.
In Which Year Hand Pulled Rickshaw Came To Kolkata ?
Hand Pulled Rickshaws appeared in India in 1880 and starting of 1900 introduced in Kolkata and by 1914 it became conveyance for hire. In India it is first introduced in Shimla.
The word Rickshaw originated from Japanese word 'Jinrikisha' means 'human powered vehicle'. Wooden crafted with chair like sit, no doors, pulled by one man and comfortable smooth ride for passengers, Rickshaw was a revolution in passenger vehicle world that time.
From the late 19th century Rickshaw became the most popular low cost conveyance across Asia. It was popular occupation for laborer who migrant from other places often first work as a rickshaw puller.
After 2nd World War hand pulled rickshaws became embarrassment of modernized world and widely banned because it is symbolic of open social class distinction. Substitute of hand pulled rickshaw, cycle rickshaws were introduced around 1880 and first start in 1929 in Singapore and found in all south and north Asian country by 1950's.
Which kind Of Force Is Responsible To Pull The Hand Pulled Rickshaw ?
When a Rickshaw pulled by a puller it works against gravitational force of the earth According to Newton's 3rd law if you pull the Rickshaw it also pulls you with same force. Then how could it runs ahead ?
Well, now it works on friction. It is a summation of the law of motion and the friction against the gravitational force, that make possible to pull a rickshaw ahead.
Who Is A Hand Pulled Rickshaw Wallah ?
Rickshaw wallah is the man who pull the rickshaw. Life of a rickshaw wallah is not easy. They wake up in the early morning and run through the day on the road continuously. Mostly it used to be a popular transportation for small carriers and women, children and elderly in small distance between the lane.
Sometimes small staller or corner shopper use rickshaw for carrying groceries to the homes of clients and also they move stuffs like vegetables and other utilities daily on rickshaw.
This way rickshaw is one of the important low budget and small distance vehicle even now a days.
In that manner many small distance vehicle available in the road but those all can carry all stuffs but not human. Only rickshaw we can find a transport where people can afford for small distance.
When middle aged mom with children goes for shopping they need a carrier to carry their packets and also they become tired after shopping and need transportation, they use rickshaw. Because no other transportations are available for small lanes and such distance also not always walkable for them.
Rickshaw plays a very important role for school going children. They pull children to the near by schools and bring them after school to home. Most of them have their own rickshaw wallah for this purpose.
Another important role they play in Monsoon. They carry students from school to home in water logging when it's raining. Water logging is a major problem in Monsoon within Lane area specially. That time rickshaw supports a lot in form of transportation till the date.
A Rickshaw Wallah burn in hot summer, wet in rain, running all day, most of them in necked feet or a rubber slipper. I asked some of them that why they run with necked feet. They answered that they are more comfortable to run on necked feet because slipper can slip some times and cause accident.
In Monsoon normal customer based for rickshaw increased significantly and the fare of rickshaws also gone up steadily. but some writer says about Kolkata monsoon that in rain Governor also take rickshaw in water logging. In such condition people also agreed to pay higher fare.
But after such hard work Rickshaw Wallah can hardly manage their both ends meet. They are actually migrant workers, most of them come from Bihar, neigbouring state of West Bengal. They sleep on road or in Rickshaws. They spend night in the space called "Dera" which is extension of garage and repair shop or dormitory which is daily paid. Most of their earning they send to their family in Bihar, rest they manage to cope up their daily need.
There are people in Kolkata who are educated and politically aware don't want to ban rickshaws because of humanitarian ground but they don't like rickshaws as a vehicle, for a symbolic human degradation.
Over all picture shows Rickshaw plays a major role in small distance transportation. But it is now ban in broad way and going to pull off from small lane also. Government trying to plan some rehabilitation for them.
Hand Pull Rickshaws may be disturbing but some other part of Kolkata it's still available as Cycle Rickshaw. Most people agreed with this and hope to exchange it with Cycle Rickshaw instead of banning Rickshaw in those locality where it's almost essential part of daily transportation.