Kaziranga National Park — The World's Largest Population Of One Horn Rhinos Nurtured In The Park
Kaziranga National Park is located in the edge of Eastern Himalayan forest range, Golaghat and Nagaon district. The park formed in the year 1908 on the recommendation of Mary Curzon, wife of Viceroy of India Lord Curzon. The park is declared as World Heritage Center by UNESCO in the year 1985.
Kaziranga National Park — The Home For One Horn Rhino
World Heritage Kaziranga National Park in Assam is one of the last untouched natural areas in the North- Eastern India, covering 42,996 ha undisturbed area in the Brahmaputra river flood plain. It is covered with 430 squares km areas dense forest. It is just 217 km from Capital of Assam, Guwahati.
Kaziranga National Park is the home for 2200 of One Horn Rhinoceros in India. It is 2/3 of world population and single largest population of the great One Horn Rhinos. The Park was declared as Wild life Sanctuary on 1950 and upgraded to National Park on 1974.
Along with greatest one horn Rhinoceros, the forest also provided shelter for many threatened species. Those are Asian Elephant, Wild water Buffalo, Eastern Swamp Deer, Gaur, Sambar Deer, Hog Deer, Capped Langur, Hoolock Gibon and Sloth Bear. Kaziranga recorded highest population of Tigers in the country. Over the year the population of wild tiger in the park has increased significantly. On 2007 the park also crowned with another feather as Tiger Reserve Forest.
Kaziranga National Park, Natural Migration Shelter Of Various Birds
Due to it's location at the junction of the Austral-Asia and Indo-Asian flyway the park's wetland play a significant role for the conservation of migrated and globally threatened species of birds. Among the wild life, rare birds also get recognition here by the Bird Life International, for the conservation of avifaunal species, like lesser white fronted goose, ducks, ferruginous duck, lesser adjutant, greater adjutant.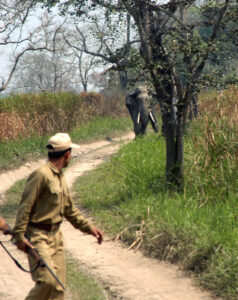 Black neck stork and openbill storks specially rehabilitate from the Central Asia during winter. The endangered Ganges Dolphins also found here in some of the lakes. Other animals found in the elephant grass, Marshland and dense tropical moist broadleaf forest of Kaziranga.
The water fluctuations of the Brahmaputra river result vast valley of floodplain land where riverine and fluvial  processes architect of vast wet alluvial tall grass land interacted with numerous shallow pools in semi evergreen wood lands.
River bank erosion, new land formation as well as new water bodies represent it's natural significant and outstanding biological diversification in dynamic ecosystem.
Almost 2/3 of the park area occupied by alluvial tall grass land which is maintain by natural flooding and burning process. Uniqueness of natural phenomena attracts variety of different species which made a complex habitats that has significant predator and pray relationship.
Type Of Plantation In Kaziranga National Park
Due to variation in altitude of Eastern and Western parts of the park, 4 types of flora structure found in the park.
These are
1. Alluvial inundated grass land
2. Alluvial suvana wood lands
3. Tropical moist mixed deciduous forest
4. Tropical semi ever green forest
Among the rare trees like Kumbhi, Indian gooseberry, Cotton Tree, Elephant apple are the famous that found in the forest. Also variety of aquatic flora could be found in ponds, lakes and other water bodies.
Challenges Of Integrity
Three sides of Kaziranga National Park are adjacent to human habitats. Some times that create the coalition between human and animal world. Protecting the animals from illegal hunters and poachers are big challenge. Mainly one horn rhinos are more susceptible for hunting. But their population is steadily increasing for proper management system to protect them from hunting.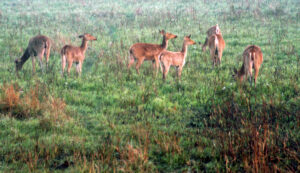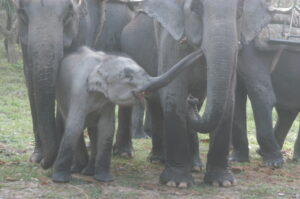 Another major event that effect the animals significantly is seasonal flooding. Due to water level increased the animals of the park faces various problems. Shortage of foods lead them to migrate out side the forest. They damage crops result they killed brutally by the people and also hunted by the poachers who waited for this opportunity.
Last two years Assam faced a horrifying flood experience that effected the Park badly. Many animals were out of trace and killed. Due to global warming the whole world is facing the horrifying natural calamity. From last 3-4 years all living creatures are suffering from it. River migration also result a loss of 5000 ha land in the forest
The Kaziranga National Park also well known for it's proper management systems and protection for the animals well being. Functional connectivity with the Park and Karbi Anglong hills was significant action.
Secondly, formation of the Buffer Zone to the South zone of the Park is a great addition of integrity to the Park. Kaziranga National Park has highest legal protection under the Indian wild life (protection) Act 1972 and Indian Forest Act 1927/Assam Forest Regulation 1891. The Park has support of National and International involvement of conservation organizations.
The Best Time to Travel Kaziranga National Park
March to April is the best to watch the animals. Elephant ride which lasts around one hour allow to see the Rhinos from close distance. Elephant ride should be booked at previous evening from the administrative office in Kohora. The rides at morning is best to see the animals.
Elephant rides are at 5.00am to 6.00 am, 6.30 am to 7.30 am and on 15.30 pm to 16.30 pm.
Jeep rides are also available from 8.00am to 11.00 am and 14.00 pm to 16.30 pm.
Three road routs are 1) Kaziranga or Central Range, 2) Western Range best to see Rhinos and 3) Easter Range best to see birds.
The observation towers are in Sohola, Mihimukh, Kathpara, Foliamari and Harmoti.
Other attraction of Kaziranga National Park sightseeing is famous here the Coffee and Rubber Plantation of Karbi Anglong and the tea gardens of Hatikhuli, Methoni, Difalu, Behora and Borchapori.
Assam Tourism also introduced the River Cruise Safari for explore the jungle from more closely and the adventurous way of cruise Safari can be your unforgettable experience.
Frequently Asked Questions :
1. What is Kaziranga famous for ?
Ans : Kaziranga National Park famous for conservation of many endangered species and birds, mainly Indian One Horn Rhinoceros.
2. How many tigers are there in Kaziranga ?
Ans : Kaziranga National Park has been declared as Tiger Reserve Forest on 2007 and almost 118 tigers are found in last census on 9th July 2021.
3. Which animal is mostly found in Assam is killed for it's horn ?
Ans : Indian One Horn Rhinos are mainly killed for it's horn. Poachers kill rhinos to sell their horn for big money, also sell their skins for money.
4. Is tigers only found in India ?
Ans : Royale Bengal Tigers or Indian Tigers found in India, Nepal, Bhutan and Banladesh.
5. Which safari is best in Kaziranga ?
Ans : Elephant safari is best in Kaziranga. Time of safari every day is 5.30 to 6.30 at the morning and can be seen One Horn Rhino nad also tigers in south zone safari.
.