None Other Than Assam Boast Plenty Of Fascinating Secrets Of Nature
Assam, Being One of the iconic seven sister's of North-East India with soothing Natural beauty, friendly people, tribal history, culture and also spiritual ambiance, is all at the same time.
Located in the far-flung of North-East India, Hangs with a thin chicken neck called Siliguri Corridor with the rest of India. It is a gothic grandeur which is hard to discover. Assam consider to be the second largest state of North-East India, after Arunachal Pradesh with the areas of 78,440 square km.
Multiple Culture In Assam
It shares borders with Bangladesh and Bhutan. Assam is an diversified multicultural state. It has influence of all adjacent foreign states. Assam got it's name from Ahom Dynasty who ruled here for long.
The history of ethnic cultures of Aryan, Dravidians, Alpines, Tibetan and Burmese are also found in ancient books and journals. Evidence of mixing in all these cultures are found even today in their cuisines, music, cloths and languages also.
The integral part of Assamese culture dominated by It's tribal culture. The mainly two type of tribal population are Bodo tribes and Mishing tribes. Tourists can take a ride for their village to know more about them.
Handlooms and handicrafts are main occupation of the tribes. They make bamboo crafts of basket, mats and hand held fans are remarkable to collect also. The famous Assam Handlooms made Saris like Pat silk, Muga silk, Eri silk and Endi cloths of Assam's flagged their mark in world wide.
Festivals Of Assam
Population of Assam comprises of people belonging to different community and tribes. People of different tradition and caste all together participate in festivals and occasions that adds colors of more enjoyment.
Among all festivals Bihu Festival is the most important. Three types of Bihu celebrated here, those are Bhogali Bihu, Rongali Bihu and Kongali Bihu.
Rongali Bihu is the most important and represents as agricultural festival of Assam and celebrated in the Spring season. All young boys and girls dance in the festival and women sings. People dress up with new cloths and variety of cuisine added delicacy in the festival.
The Harvesting Festival or Bhogali Bihu celebrated in the month of January every year and it is also another most important festival in Assam. The main attraction of this festival is Buffalo fight. Worship of Tulsi is the main ritual of Kongali Bihu.
Tea Festival is another most interesting and popular festival in Assam. The Tea Festival organized in the month of November in Jorhat city mainly by Tourism Corporation of State. Tourist can join for enjoy the variety of Assam's exclusive brands and try to taste the fresh Assam Tea.
None other than Ambubachi Mela signifies most among other Hindu religious festivals. It is held every year at Kamakhya Mandir during the Monsoon month. Visitors from all over the world join the festival for taking the blessings of Devi Kamakhya.
Another major event in the state is Brahmaputra Beach Festival. People come across the world to enjoy the boating and rowing. Apart from these other major festivals are Elephant Festival, Dehing Patkai Festival, Jonbeel Mela, Rajini Gabra, Harni Gabra, Rongker and Chomangkan Festival.
Famous Religious Places Of Assam
Assam is widely known for Hindu pilgrimage places of spiritual and religious. The most famous Kamakhya Temple in Guwahati is one of the 51Shakti peeth and Tantric worship place. The devotees come across from the world for famous Manasha puja and Ambubachi Mela.
The Umananda Temple of Lord Shiva another famous Religious place for Hindu Devotees. The Temple located at the center of Brahmaputra river and Maha Shivaratri puja performed here in a grand manner with thousands of devotees.
Majuli is one of the famous cultural village where Satras and Vaishnavite Monasteries plays an unique role of religious and spiritual culture. Satra are found since 16th centuries and has unique Vaishnavism was founded by Sankardeva.
Sri Purva Tirupati Balaji Temple of very recent time added a new feather on Guwahati Hindu religious Monarchy and become the major attraction of the city. The Temple is dedicated to Lord Balaji and A Ganesha shrine also at the entrance of the Temple.
Sukreshvara Temple and Ugratara Temple also the famous pilgrimage site in Assam. Other than Hindu Temple there are also holy places like Powa Mecca, Christ Church, and the Gurudwara of Guru Teg Bahadur Sahib are also noticeable.
Wild Life In Assam
Assam is truly known for it's wild life sanctuaries and National Parks. Assam is most visited place for the most famous Kaziranga National Park in the world wild life tourism. Kaziranga National park was declared as word heritage site and it is the home for the great One Horn Rhino and many other endangered species.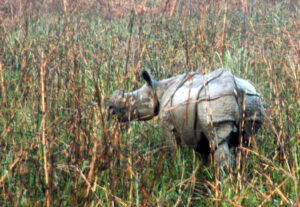 The park is also a Tiger Reserve Forest of Royale Bengal Tigers. Unique ecosystem of the forest is a paradise to the variety of flora and fauna naturally coexist in the forest. The park has also a wide collection of Migratory birds like Heron, Hornbil, Fishing Eagle and Egret.
The Manas National Park is other most famous and located at the foothills of Himalayas. It is only National Park to be the part of Project Tiger in the state. Among the wild life it is the home for many endangered species also like wild boar, Hog Deer, Sambar, Elephant, One Horn rhino and others.
Saikhawa National Park also famous for it's rare habitats. The park is declared one of the biodiversity hot spots in the world. The park also famous for it's huge collection of Avifauna of local and migratory birds. Conservation of many rare birds with other species separately accommodated. Beside it Elephant, Tigers, horses found here also.
Beside cultural heritage Assam also boast unique and rare varieties of floras and faunas in numerous wild life sanctuaries. The other national parks are Gibbon Wild Life Sanctuary, Barail Wild Life Sanctuary, Burachapori Wild Life Sanctuary and Nambor and Porbitora Wild Life Sanctuary.
Hill Stations And Adventure Tourism In Assam
Assam Boast some majestic hill station that allure people around the world. Mother nature blessed with abundant greenery which astonishing uniqueness and soothing for the eyes. The unique ecosystem and breath taking scenic beauty that absolutely adorable for the tourists.
Haflong the spectacular hill station in Assam, among other it is the famous one. Greenery and plantation around the place quite picturesque and rocking for the tourists. Another popular place is Jatinga, located to North Cachar hills. The place is widely famous for orange orchard.
A strange story about Jatinga is popularly known that several migratory birds commit suicide on moonless foggy night. It is something scary but nobody knows the real fact. Some attractive hill stations in Assam are Diphu, Sualkuchi, Lilabari and Marigaon which are famous for natural beauty.
Maibong is another popular hill station in Assam that used to be capital of Kachari rulers in ancient era. Umranshu is another popular hill station that should not be missed also. It is located in the border of Meghalaya and 112km away from Haflong. It is a perfect weekend gateway from Assam.
The adventure tourism in Assam has rapidly developed in last 4-5 years. Karbi hills and Cachar hills are the dream destination for trekkers and rock climbing is most fascinating in Elephant rock. Trekking is best for the month of October to April. That time several camps are arranged for all necessary equipment for trekking.
In adventure sports Para Sailing is most popular among domestic and foreigner tourists. This super exciting adventure is arranged in Northern Guwahati in a large open space. Hang Gliding another super exciting adventure among adventure lovers. It depends on weather condition and if all ok it arranged from Kamakhya hills and hills around Kaziranga forest.
River rafting also a fascinating adventure among daring youths. Apart from this boat racing and Angling are also major adventure sports which is arranged in the Mighty rivers like Brahmaputra, Manas. Jia Bharoli and Kapili. For boat racing the locations are Hajo, Shaulkuchi, Barpeta and Guwahati.
So Assam could be the most fascinating holiday destination for all type of tourist like adventure lover, nature lovers, family, couple and also youth hangout.
Frequently Asked Question And Answer
Quest 1. What is very famous in Assam ?
Ans 1. The most famous in Assam is Kamakhya Mandir which is Adi Shakti Peeth of 51 Shakti Peethas. Assam is also famous for it's Handlooms, Silk Sari, Tea Plantation, Kaziranga National Park and also gate way of many tourist destination of North-East India.
Quest 2. Which month is best for visit Assam ?
Ans 2. The best time to visit Assam is November to May. Before monsoon Bihu Festival also could be enjoy on this time.
Quest 3. Which is the major natural destination in Assam ?
Ans 3. Kaziranga National Park which is a vast natural biodiversity in the country and UNESCO world heritage site. The Park is a home for famous One Horn Rhinos in major population.
Quest 4. Which month is rainy season in Assam ?
Ans 4. Every year Assam is flooded in the rainy season due to heavy rainfall and over flooded Brahmaputra river. The month of May to October consider to be the rainy season in the state.
Quest 5. Is it safe to visit Assam now ?
Ans 5. Yes it is totally safe to visit Assam now also. Many foreigners also visited Kaziranga recently and upcoming Durand Cricket Match also to be held on Guwahati on August 2023.