Monsoon Trekking Combining A Deadly Adventure Alluring Goa Tourism
Goa tourism inviting tourists for a Monsoon Trekking program that arranged by the Goa Tourism Development Corporation (GTDC). The tourists visiting Goa should be taken part of this opportunity to enjoy Monsoon in Goa.
GTDC Chairman Ganesh Gaonkar stated that state Government focusing on hinterland tourism and Atithi Debo bhabo would be followed in all stand. Every tourist in Monsoon season enjoying Goa should be safe and all measure for safety would be taken by state government.
Monsoon Trekking In Goa
Goa popularly known for it's beaches, night life, parties, Goan foods and cultures. But Goa is also sound in adventure tourism like water sports, wind surfing, paragliding and also trekking.
In short Monsoon is the best time for adventure activities in Goa. Monsoon Trekking also one of the most attraction during monsoon and Goa Government also alluring adventure lovers to take advantage of this.
The gorgeous climate of Goa in Monsoon that will cherish a pristine surroundings for tourists. So tourists must try for Monsoon Trekking if they want to experience an awesome views and explore unknown places from the ground level.
Goa tourism offers 7 places for trekking are
Sonsogor Trek
Dudhsagar Water falls Trek
Hivrem Falls Trek
Pali Water falls Trek
Netravali Water Falls Trek
Harvalem Water Falls Trek
Tambdi Surla Water Falls Trek
Sonsogor Trek In Goa Monsoon Trekking
It is one of the highest peak in Goa. After reaching the Sonsogor peak you will be the top of the Goa and a mesmerizing bird's eye view stand you speechless.
Being a part of Western Ghat mountaineering range the Sonsogor peak is 1166meter height from sea level. Sonsogor peak trek takes around 2-3 hours to complete.
Dudhsagar Falls Trek In Goa Monsoon Trekking
The word is still unknown to describe the beauty of mighty Dudhsagar Water Falls, the most popular water fall in Goa and 5th tallest waterfall in India.
Milky clear water flows through the dense forest of Western Ghat which finally plunging from 310meters of Height. It's view could be shocking for any one who first time see it.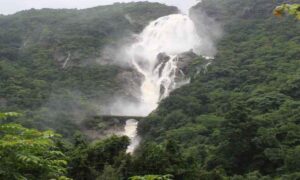 Nestled between the Bhagwan Mahaveer Sanctuary and Mollem National Park flows through the Wester Ghat green lushes. Dudhsagar falls is UNESCO word heritage site. Visitors have train route to choice for reaching the site. But tourists can reach the point through trekking also.
Please Note, reaching the point through trek it could be moderate to difficult embarking through dense forest and rocky surface. In Monsoon roads generally closed for the rain. The roads are open from the month of October.
Trekkers can take the route from Castle Rock Route and Collem Route. Castle Rock Route is 14km hike along the railway route. It takes 6hours to reach and Collem Route takes 5 hours to reach the water fall.
Hivrem Falls Trek In Goa Monsoon Trekking
The lesser known part of Goa, Hiveram falls is an unexplored hidden gems. The hilly rocky surface could be little risky for new trekkers. Hivrem Valpoi hike through steep slopes which need experienced trekker to cover the steps.
Once completed the view from top is spectacular. The Three falls located one after after another and an experienced trekker can cover it in one day. The hike to Hivrem Falls
Pali Water Falls Trek In Goa Monsoon Trekking
Pali Water Fall Trek is another trekking option in Goa. This trek is moderately easier for the tourists than other treks. Roads Could Be Little slippery but can be achieve the target with some little effort. Advisory is to take a guide for the route, as it comes through a dense forest.
Netravali Water Falls Trek In Goa Monsoon Trekking
Netravali Water Falls nestled in to Netravali Wild Life Sanctuary. The trekking of Netravali Falls lies through the Mhadei Wild Life Sanctuary. This trekking route covers the part of thick forest and pristine streams with various flora and faunas.
The hike is 4km long and explore this hidden gem a splendid experience during the monsoon season. This trekking is ideal for beginners as well as veteran also. Make sure to have enough foods for the trek.
Harvalem Water Falls Trek In Goa Monsoon Trekking
Harvalem water falls located in the Sanquelim village. This trekking route covers dense forests and pristine streams lead to a stunning historic arched bridge which is a paradise of scenic beauty. The place is also unexplored hidden gem.
Near the Harvalem falls the natural lake is called Mayem lake offering a pleasant harmony to the place. There is another historic structure called Aarvalem rock cut caves mesmerizing the spectacular add on. It is believed to have been sculpted by the Buddhist monks years back.
Tambdi Surla Water Falls Trek In Goa Monsoon Trekking
Located in the Bhagwan Mahaveer Wild Life Sanctury, Tambdi Surla Water Falls Trek is an incomparable destination to be explore. Natural hidden surprises leave visitors speechless.
The temple of Tambdi Surla visited by most of travelers but very few of them try to opt for the water falls. The Tambdi Surla Water Falls just 90 minutes away from the temple to trek through the lush green dense forest.
During the Monsoon the Water falls gushing at it's best that enhance the natural surroundings at it's best also. At the time of June to September tourists enjoy the full force water falls with take a dip in to it's chilly water.
Don't forget to take a guide for trekking through the dense forest and also keep enough foods with water also.
Frequently Asked Questions and Answers
Quest 1. Is it OK to go Goa in Monsoon ?
Ans 1. Yes. Of course ! If you want to travel in cool and lush greenery then monsoon could be your choice to explore Goa. Now Goa tourism also going to started Monsoon Trekking. So it could be an another attraction for adventure lovers.
Quest 2. Can we do trekking in rainy season ?
Ans 2. Yes. Definitely, When Government going to started Monsoon Trekking in Goa, there must be arranged all safety measures. So tourists should follow their guideline for ultimate exciting holiday in Goa.
Quest 3. What do you wear in monsoon trek ?
Ans 3. When you are in a wet weather you should wear cotton based quick drying and sweat absorber t-shirts and comfortable trousers also. A rain coat should be must carry to save from rain whenever needed.
Quest 4. Which month rain is heavy in Goa ?
Ans 4. The monsoon comes mid June in Goa. If you want to enjoy lush greenery and rain soaked fresh cool Goa, July to September will be the right time.
Quest 5, What weather is best for trekking ?
Ans 5. Comfortable Weather where should not too hot. Cool fresh breezy weather is preferred for trekking like after monsoon.