Tripura Is Not Only Majestic Royale Heritage of Glorious Past But Also Valuable Historic
Tripura, which is another masterpiece of Ethnic architectural paradise but also a Royale heritage of past. It is also known for Hindu ethnic cultural place with year old temples and pilgrimage.
Tripura is a Bunch of heritage, historical sites and temples going back hundreds of years. The state known as a cultural hub among North-East India.
From North To South Tripura Extended among five major hilly ranges. Further extended to South till joining to Chittagong hill range in Bangladesh.
Top Tourists Places To Visit In Tripura
Tripura is also blessed with beauty and bounty of lush green landscape that decorated with hills, valley, rivers, forests, rocks and water falls around all over. The state blessed with 10 rivers and small water falls around it.
The highest peak of hill ranges in Tripura is Betlingchhip. The Capital city of Tripura is Agartala. The city famous for the heritage sites and top most on of them is Ujjayanta Palace.
The gleaming white Magnificence of the structure reminded the glorious past, located in the center of Agartala.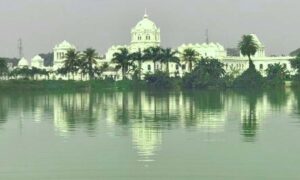 Ujjayanta Palace won thousands hearts of visitor's with it's marvelous architectural design of floor, wooden ceiling and exquisitely crafted doors. It was built by Maharaja Radha Kishore Manikya in 1901 AD.
Equally attractive another masterpiece in Agartala is Neermahal. It has a resemblance of Jag Niwas Palace in Rajasthan. Neermahal was built by Maharaja Bir Bikram Kishore Manikya in 1930 AD for his summer residence.
The Lake adjacent to Neermahal is always twittering with migratory birds and visitors also enjoy sports, boating and also boat festival in the month of July and August. The Darbal Hall is also much famous and popular among visitors.
Temples Of Tripura
Tripura is Temple city and most of them were built before eras but still noticed for their tradition of ethnicity. Among them Matabari or the Tripura Sundari Temple is the most famous and one of 51 Shakti Peeth.
devotees visit for worship from far away of different parts of the country as well as of the world. Tripura Sundari Temple was built by Maharaja Dhanya Manikya in 1501 AD and situated on the top of the hill.
Main deity of the Temple is Goddess Durga, known as Tripura Sundari as an incarnation of Devi Parvati. The lake beside the Temple is famous for Tortoise and it is also known as "koorma Pith".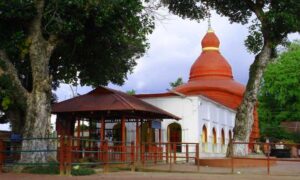 The Chaturdash Temple or the Temple of Fourteen Gods also famous and legendary Temple. The most unique feature is the statue of fourteen Gods only head not full body. The Temple is located in West Tripura, Khayerpur, another popular destination of tourists.
Kasba Kali Temple located in Sepahijala district, hold an important religious significance on Hindu devotees. It is also built by Maharaja Dhanya Manikya in 15th century.
Goddess Durga worshiped as Goddess Kali, killing Mahishasura with siting on Mahisha or buffalo. This Temple also famous for a large fair which held on April every year and thousands of devotees visited this place for worship.
Famous Archaeological Sites In Tripura
Apart from Temples and Monuments Tripura also known by it's archaeological sites. Most famous among them is Unakoti archaeological site. The site is rocking and landscape surrounding with rocks, slop, green lush and spectacular water falls.
Unakoti is famous for it's colossal rock cutting sculpture of Hindu deities and and other figures that are masterpiece unique form of art. UNESCO added Unakoti with three more sites in world heritage site panel.
The two famous thing here is huge Shiva Head and Ganesha statue. Devotees gathered here every year for famous Ashokastami Mela.
Pilak is another place for valuable archaeological evidence of year back 8th and 9th centuries. The place found many Hindu and Buddhist sculpture of antient eras. Pilak Festival held annually in December and visitors came from far to enjoy this.
Exploring the fact from the ruins after thousands of years, a big achievement itself and also prove the value of the year old ruins. Ancient ruins are also found in Baxanagar at Sepahijala.
The research of these ruins is attributed to the denudation of the forest. The research of the Archaeological survey of India shows that it was once a Buddhist's Stupa in ancient era.
Wild Life Sanctuaries In Tripura
The lap of abundant nature numerous wild life sanctuaries are found in Tripura. Famous among them is Sepahijala Wild Life Sanctuary which has spectacular variety of flora and fauna.
The forest is home to many kind of animals including Clouded Leopard, Junglee Fowl, Barking Deer and Wild Pig. Other than animals and birds people also can enjoy boat riding on the adjacent lake.
Coffee and Rubber plantation which is spread over a large areas also another major attraction among tourists. Tourist also can enjoy a toy train ride with in the Park. Next major important Park is Trishna Wild Life Sanctuaries.
It basically famous for Indian Bison, also known as Gaur. The endangered ape species like Hoolock Gibbon along with Capped Langur and Golden Langur are habitat in this forest.
Rowa Wild life Sanctuary in North Tripura is famous for migratory birds and Gomti Wild life Sanctuary also home for large number of animals like Sambar, Barking Deer, Elephant, Serow and wild Goat.
Another two Nature Park are Baramura Eco Park and Kalapania Nature Park also a must visit for Various attractions. Damboor Lakes a precious attraction of tourist.
The lake is resembles like 'Damboor' of Mahadev and that's why it is called Damboor Lake. Boating lover can spend some valuable time here with migratory birds also. The Lake has 48 islets with in.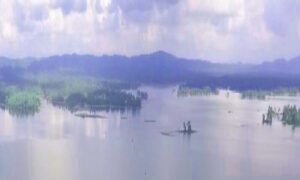 One of the most popular sight seeing is Sanya Waterfalls Dhalkai Dist. From a hilltop a spectacular view of Kamalpur Valley is a great sight. The water fall crashes with the surface of rock that make a great sound, which is vibrated through the forest.
The sight will mesmerizing visitor's unforgettable experience.After enjoying the spectacular experience of falls visitors can opt for tribal life style in tribal villages of Reang Tribes from near by.
Tribal culture is one of the unique feature of North-East and that is the one of main tourist attraction in Tripura also. Tourists can collect Their Bamboo handicraft from their village also.
Tripura is blessed abundantly with spectacular natural lush greenery as if the land scape painted with green and decorated with hills, rivers, valleys and rocks. One of the must see destination of North-East with valuable memories for the lifetime.
Frequently Asked Questions And Answers
Quest 1. What is Tripura most famous for ?
Ans 1. Tripura is known for it's famous cotton fabric handlooms, wooden crafts, bamboo crafts and also archeological sites. Tripura is 2nd Rubber production state in the country. Tripura also well known for it's historical and royal culture of ancient past.
Quest 2. Why should you visit Tripura ?
Ans 2. Tripura tourism calling you for variety of attraction like spectacular natural beauty, heritage sites, royal cultural monument, tribal social life, famous archeological sites, Hindu temples and religious places and many more.
Quest 3. Is Tripura safe for travel ?
Ans 3. Yes. Tripura is all over safe. But should take an advisory from regional administration may help for precautions.
Quest 4. Which is the mysterious place in Tripura ?
Ans 4. The most mysterious place in Tripura is Unakoti. The place is an hidden world of headed sculptures on rock with an ancient huge stone Gate. Story behind it how the faces of hills lost.
Quest 5. Is Tripura a Hill station ?
Ans 5. Yes. It has a famous hill station Jampui. Situated at 3000ft a magnificent tourist destination in Tripura. It has a spectacular panoramic view of a Chittagong hills in Bangladesh and Sundry hills of Mizoram.