Arunachal Pradesh–Spectacular Yet Mysterious Unfold Secret Of Nature
Arunachal Pradesh is one of the untouched Natural dreamland between the North-East Himalayan range. Tourists love it for it's natural beauty in different season.
Arunachal Pradesh truly undiscovered natural kingdom which is definitely could be the dream destination for nature lovers and adventurous. The raw natural tranquility surprises travelers since eras.
Top Tourist Spots To Visit In Arunachal Pradesh
The charming beauty of Arunachal Pradesh lies in to raw nature of pristine rivers, valleys, mountains along with unique variety of wild life, and tribal cultures. Travelers get amazed of it's spectacular natural views with variety of spots to explore.
Arunachal Pradesh is located to North-Eastern region of India, and it share Southern boundary with Assam, West with Bhutan, North and North-East border shared with China and Myanmar in East. The areas it Covers 83,743sqkm
Opportunity for adventure tourism is one of the major attraction in Arunachal Pradesh tourism. Incredible river rafting and kayaking is offered in the powerful rivers like Lohit, Siang and Subansiri. Another way from Bhalukpong to Tawang via Dirang and Bomdila offered available for Motor biking adventure.
The Eastern most state of India, Arunachal Pradesh Might be offbeat but is intact with diverse allurement. Exploring this is may be not easy but once done, the experience would be unmatched ever with anything else in the earth.
With rich culture and pristine divine nature Arunachal Pradesh also offer plenty of places like Tawang, Dirang, Bomdilla, Bhalukpong, Zero valley are some of the most popular among others.
Tawang Is The Highly Security Zone In Arunachal Pradesh
Tawang in Arunachal Pradesh, mentioned as highly security and sensitive areas of India and always under surveillance of Indian Army. The town shared border with Tibet in North, Bhutan in South-West and Sela range in the East.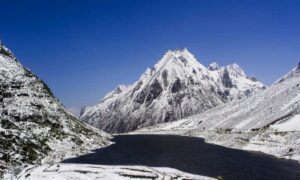 National and politically important Tawang has it's Very Interesting own story. Once Tawang was a pert of Tibet, province in China. The time of British colonial rule in India, they captured the town for control the North -East Zone.
Although Tawang is under Indian Territory, China had always claimed the region, after British left India at 1947. At 1962 China attacked India to reclaim their control but they lost war to Indian Army's Bravery and went back.
Since then It was a disputed areas and China often try to reclaim it. Not to explicitly Mentioned, an inner line permit for Indian and protected areas permit for foreigner required to visit for Tawang. This could be arranged from the office of Deputy Resident Commissioner of Arunachal Pradesh.
Tawang is known for it's majestic natural beauty and Buddhist Monasteries. Another significant high mountain pass Bumla Pass, from where 14th Dalai Lama entered India from Tibet. Largest Monastery in India is also located in Tawang.
Tawang is also famous for two near by tourists spot, one is Madhuri Lake and another is Nuranang Falls. Never miss to visit Jaswantgarh War Memorial and pay tribute to Indian Brave Sepoy Jaswant Sing for his utmost sacrifice for the nation, on the war with China in 1962.
Other Important Destinations In Arunachal Pradesh
Just 40km of Tawang the 2nd best spot to visit is Dirang in Arunachal Pradesh. Surrounded with Kiwi and Apple orchard magnificent view of natural mountain , rivers and valley. Also famous for an ancient fort on the top of the hill.
Bomdila is the next famous for it's spectacular vistas of Kangto and Gorichen peaks and also a holy monastery. Bomdila is also a trekkers paradise for adventure lovers. A drop dead gorgeous valley called Zero is another unique attraction for trekkers.
The Zero valley is a gateway of Kardo hills, Talley Valley Reserve Forest and Talley Wildlife Sanctuary. These places are extraordinary soothing and relaxing for the nature lovers as well as for adventure lovers also.
Another famous spot is Bhalukpong, eventually unnoticed by the travelers. But the scenic beauty of rivers, valley and magnificent panoramic view with pleasant soothing experience that nowhere could match again.
Bhalukpong also a paradise for trekkers. Adventure tourism is another attraction in Arunachal Pradesh. Bhalukpong to Tawang via Dirang and Bomdila is popular for motor biking adventure in Arunachal Pradesh.
Special Attraction To Visit In Arunachal Pradesh
Ita Fort in itanagar and Dirang Dzong In Arunachal Pradesh are telling about their exotic historic past that allure visitors to enjoy ethnic touch of these stunning places. Arunachal also home for plenty of wild flora and fauna with wild life reserve forests.
Namdapha, Dibang, Sessa and Pakhui are the most popular among reserve forests. The very rare species like White Winged Wood Ducks are exclusively found here. A wide range of wild animals, mammals, amphibians, reptiles along with variety range of trees and flowers also inherits of the forest.
Another vibrant feature in Arunachal is rich Orchid plantation which is around 1000 of varieties. Arunachal also flaunt with vibrant culture and festivals of various tribes like other North-East states.
Along with famous Hornbill festival, Arunachal is home for plenty of tribal feasts and festivals like Boori Boot, Losar, Solung and Dree. The tribes like Monpa, Adi, Apatani and Mishmi perform their art in the festivals to add vibrancy and colors.
Handicrafts and hand looms are most popular culture of the various tribes. The tribes like Wangcho, who are specially expert in making of Cane furnitures and artcles, Jewelry, and also wood curving.
Itanagar is the state capital of Arunachal Pradesh is also an architectural grandeur. Some famous attraction in Itanagar is legendary Ganga Lake, Nehru Museum, Gompa Buddha Bihar, Craft Center and Emporium, Polo Park, Indira Gandhi Park and Zoological Park.
Pasighat is another mind blowing destination in Arunachal Pradesh. The main tributary of Brahmaputra river, the famous Siang river flows through Pasighat, where adventure lovers relish with river rafting on it.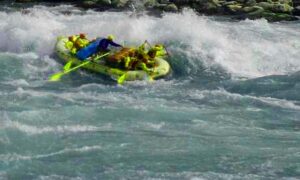 Darporijo is another destination for river rafting, trekking and angling for adventure lovers. Tuting is much loving place for fierce rafting level on Subansiri river. Aalo catches eyes with scenic orange orchard surrounded by hills.
Apart from all these Machuka, Roing, Hayuliang and Dong are some of the best places nobody can ignore. Hayuliang is witness of confluence of two rivers Lohit and Delai where Dong offers the vibrant beauty of first sun rays falls in the country.
Arunachal Pradesh Tourism is one of the spectacular memory for the tourist who can enjoy all type of travelling experience including adventure also. Spectacular North-East India allure tourists with abundant of natural surprises that can't be affordable to be missed.
Frequently Asked Questions And Answers
Quest 1. Is tourism allowed in Arunachal Pradesh ?
Ans 1. Yes. Arunachal Pradesh is always open for Tourism or Indian but foreigners needed protected area permit from administrative Office. Some places like Tawang is needed permit for all tourists.
Quest 2. Why Arunachal is so special ?
Ans 2. Arunachal boasts five major rivers and outer layer Himalayan Patkoi ranges offers abundant natural beauty that attracts tourists. It is also famous for adventure tourism like angling, river rafting, trekking, para gliding and many more.
Quest 3. Does Arunachal Pradesh have snow fall ?
Ans 3. Yes. Snow fall found in Tawang Valley and it turns white after heavy snow fall in winter.
Quest 4. Top Places to visit in Arunachal Pradesh.
Ans 4. Plenty of places that attract tourists in Arunachal Pradesh like Tawang, Dirang, Bhalukpong, Ziro valley, Bomdila and many more.
Quest 5. Which is the best time to visit Arunachal Pradesh ?
Ans 5. Arunachal Pradesh is best for visit in October-November and March to April.