Rural Games — Motivated by Nature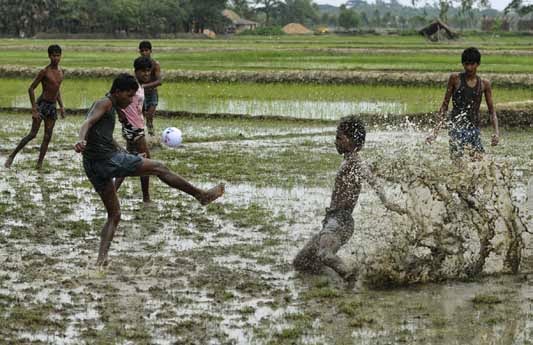 Rural Games are very popular among the villagers. These games are formed naturally by their work culture and nature of entertainment. They don't have have enough sources of proper games to play. Since very earlier time villagers used to modified their daily work to do in a form of game.
Rural Games — Motivated By Nature
Rural games are something very different from other source of gaming because of rural culture and their lifestyle also significantly corelated with the games. Villagers are actually farmers and they have no such way to gaming properly. They have no time to spend and relax for gaming. They most of time become busy in the field and their children also help them to work with them. So there no traditional games are targeted rather than they used to play there games during their daily life or festival season to make their life easy.
This is a kind of entertainment through that they complete their work easily and also happily playing with it. This form of play they perform in a particular season, like farmers play Bull Race with their bulls in Monsoon to fertile the lands before bowing crops. Children play football in Monsoon on Muddy lands to prepare the field for next paddy season. Now the scenario is not the same because the things changed and modernized with the time. But still some evidence of popular Rural Games we found in some villages. People love to play this games their own way.
Many types of Popular Rural Games
There are many types of Popular Rural Games are found in different purpose of technical manner to improve their mental and physical health and entertainment. Villagers lead a life of hard labor and struggle, amid of very simple and poor lifestyle. Games are the recreations and relaxation beside their part of professions also.
One of their popular rural game is 'Cock Fight'. In this game two cocks are forced to fight with each other. They need not any reason to make it happen, in any morning or afternoon where some enthusiastic people gather and they start to play with it. in this game two cocks are tied with a knife in their legs and pour blood on their head to encourage them to fight each other. They smell blood and angry with them and fight till one is dead.
Popular rural games and sports are exceptionally transformative. Its also key to healthy living and mental health. In villages which formed the first habitation of civilized man, rural games grew out of sheer necessity. The need for improve individual strength for labor on the fields. Beside the needs these games are only recreation for the villagers between the all odds and struggles of their life.
In the monsoon play ground children are very fond to play football within the muddy and flooded field.
They are actually son of earth, born and bought up in lap of the earth, they enjoy their game also in mud and clay with their natural habitat.
Another popular rural game on Monsoon called 'Bull Race'. It is found only in the village of West Bengal named 'Herobhanga' in Canning district. It is an internal game between two villages and simbol of power and strength. After Monsson before the fertilization starts it organized in muddy and flooded fields, motto of this game to make the fields more fertile for growing more crops. Bulls are trained through the year for the race. They used to tie two bulls with a metal rod and a big rack attached with it that push into the muddy field to bring out hard soil from the deep into the field. That help the field make ready to bow the seeds.
'Boat Race' is the one of the famous rural games which is found only in the villages in Kerala. It is known as back water festival and famous as 'Snake Boat Race'. A sport that shows excellent team spirit within members. They have also significant ladies team of this game. Ladies of these villages can take part of this game.
All together it teaches the essence of life to live in harmony with nature and human. The inter dependence within the community and the need of joint defend against onslaughts of a common foe and dangerous animals must have given birth to sports like wrestling, running, jumping, weight lifting and such performing arts as of measuring strength by holding wrists, twisting hands.