World's Largest Igloo Cafe Became The Center Of Tourist Attraction In Kashmir, India
A beautiful Igloo Cafe has introduced in Gulmarg by a famous ski resort of Gulmarg in Kashmir. Tourists are very excited and over whelmed with the heavenly experience of the wonderful cafe "Snowglu".
Kashmir is described as 'Paradise On Earth' in many famous literature. Located in the North of the Northernmost state of India, Jammu and Kashmir.
This is really a winning idea to develop a Igloo Cafe in Gulmarg. The Idea has taken from Switzerland concept. According to the member of café, it's the largest Igloo in it's class, already applied for world record.
Last world record was from Switzerland in 2016, and we have crossed that limit. Snowglu is 37.5ft tall and 44.5 ft diameter which is all time record. The café can accommodate 40 people at a time inside.
An Igloo is a traditional snow house of Eskimos. The shelter of snow where people can stay. Earlier it was made as café in Switzerland first time, that was world famous.
Now Igloo café named "Snowglu" is became the most tourist attraction in J&K of India. The café has created two steps with a staircase. "Show pieces made by snow just looks like crystal clear glass made.
Light's reflection in the snow create a dreamy appearance in the surface and romantic out of the world atmosphere", describe a tourist.
The Cafe is 5ft thick and expected to stand till March 15th. After that the Igloo café will be closed for the tourist.
Jammu and Kashmir has many reason to rejoice the wonderful journey, now added a new feather of Kashmir's beauty and popularity, is the word's largest igloo café in Indian Union Territory.
Trekking Is Another Attraction In Kashmir
Other than Igloo Cafe trekking in Jammu Kashmir also attracts tourist and Jammu Kashmir tourism recently launches a setoff new trekking expedition to boost adventure tourism.
Reports says the selected alpine trail for these ex[edition will include the famous Tarsar Marsar Trek, Kashmir Great Lake Trek and also Gurez and Boadpathri Trek.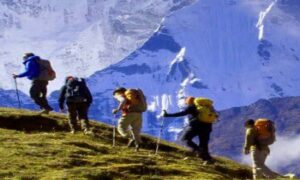 Kashmir tourism expect a new thrill will impose to the adventure lovers and trekkers who are always hungry for new challenges amid unmatched natural beauty.
According to Director of Tourism in Kashmir that they focused more to develop adventure tourism because they are dedicated to ensure that tourists explore and indulge in thrilling activities while enjoying the natural beauty of Kashmir.
He added as part of ongoing initiatives J&K tourism is actively promoting 75 new trekking routes and that efforts are underway to boost aero adventures, offering visitors a wide range of options to explore the region.
Adventure tourism in Kashmir a popular bet for the tourists from all over the world. The level of easy to difficult offers tourist of all level to enjoy the tranquility of nature with the goal.
Some of easier popular trekking routes are Khilanmarg trek, Tarsar and Marsar Trek, Gurez Trek and Boadpathri Trek. All tourists can enjoy these short treks for one day.
Khilanmarg Trek is one of the easier trek, highest altitude is 2000ft. It is located just 5 km away from Gulmarg and become one day popular trek for tourists. Attractions are Gulmarg, Khilanmarg meadows, adventure activities, Gondola cable car ride with spectacular view.
Alpather Lake is the star attraction of the trek which is 8km away from khilanmarg. The lake remains frozen most of the month in a year.
Tarsar and Marsar Trek is also popular among tourists. At the height of 12500ft to 13000ft two glacial Lakes are Tarsar Lake and Marsar Lake respectively. The Tarsar Lake rejuvenate tourists for the next lap of regerous trek to Marsar Lake.
Tarsar Marsar trek is one of the easy trek for tourists like novice or veteran trekkers. The attraction of this trek is spectacular view of Srinagar, Pahalgaon, Aru valley, Lidderwat and Sundarsar valleys.
Gurez Trek is another popular, 38km long trek which is ideal for beginners. It is famous for beautiful landscape of Gurez valley, weather and spectacular view point of Habba Khatun mountain and LOC separating India and Pakistan villages.
Boadpathri Trek is lesser known great alpine trek of Kashmir. This trek is unique for it's landscape of alpine green meadows, alpine lakes under the majestic peak of Pir Panjal.
To explore the magical Paradise on Earth, trekking could be the most attractive adventurous way to discover yourself between gorgeous natural heavenly Kashmir.
Frequently Asked Questions And Answers
Ques 1. What is the best month to visit Kashmir ?
Ans 1. Kashmir is best to visit in the month of March to June. Because it is the best time to explore Kashmir when weather is friendly, not too cold. Trekking is perfect for most of available places in this time. But if you enjoy snowfall and cold weather you should visit in winter.
Ques 2. In which month Kashmir has snowfall ?
Ans 2. Kashmir has a prolonged winter season which stays from October to mid March. Fresh snowfall started usually on December and continue till middle of March.
Ques 3. Which is the best time to visit the Tulip garden in Kashmir ?
Ans 3. Every Year Jammu & Kashmir Tourism arrange the Tulip Festival from the end March to April which is the best time to explore breath taking landscape with the full bloom Tulip gardens.
Ques 4. Which is the coldest month in Srinagar ?
Ans 4. January is the coldest month in a year in Srinagar when Temperature fall to 2.7DC to -2.3DC and maximum of 7.7DC around.
Ques 5. How is the road from Srinagar to Gulmarg ?
Ans 5. The distance from Srinagar to Gulmarg is 50km and it takes around One hour and half to reach Gulmarg by road.