Corbett National Park Has A Haunt For Wild life Tourists Since Ages
Corbett National Park has been one of the most popular and fascinating trip among travelers since ages. It is a premium destination for wild tiger population which is known as shelter for Royale Bengal Tigers.
Significance Of Corbett National Park
Corbett National Park is located in the foothills of Almora in Uttarakhand. Famous for it's variety of huge flora and fauna due to it's unique geographical location, the park remains open through the year. Corbett National Park is the first National Park that was established in 1936, with the help of great hunter and Patron Jim Corbett.
Located near the hill station of Nainital The Corbett National park is Spread over the 920.9 square km at the height of 600 to 1100 meters in the foothill of western Himalayas.
The longest established National Park in India the Corbett National Park is older than 65 years and also increased it's areas with attaching Sonanadi Wildlife Sanctuary's 1319 km reserve forest areas and together made the tiger habitat of Corbett Tiger Reserve.
The park's natural resources of hills, grassland and streams is an ideal tiger habitat where the project tiger was started 1973 with the number of tiger was 163.
Since then it became the largest population and highest density of tiger in a reserve forest in the country. The park is home to 600 elephants and 600 types of species of birds and other animals.
The History Of Corbett National Park
The Corbett National Park was previously known as Hailey National Park, after the name of Sir Malcom Hailey, the Governor of the United Provinces. Shortly after Independence of India it was renamed after the river Ramganga, as Ramganga National Park.
The Park is finally named after Jim Corbett, who was renowned hunter and naturalist and who's effort led the establishment of National Park on it's true sense first time, the Corbett National Park in 1956.
When the park was created on 1936, Hunting was prohibited on 1934. But as an hunter Jim Corbett knew the truth that loosening of control of arms, the tiger did not stand much of a chance.
He used all of his skills, resources and contacts toward constructing roads and other structural changes in the forest. It was Jim Corbett's vision that tiger also need protection. That time there was no dearth of forest nor of the prey base.
So he was the first who realized the need of balance for protection of tigers as well as protection of human who lived around the forest areas.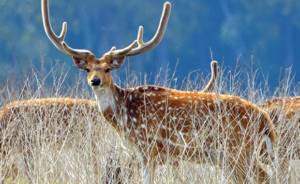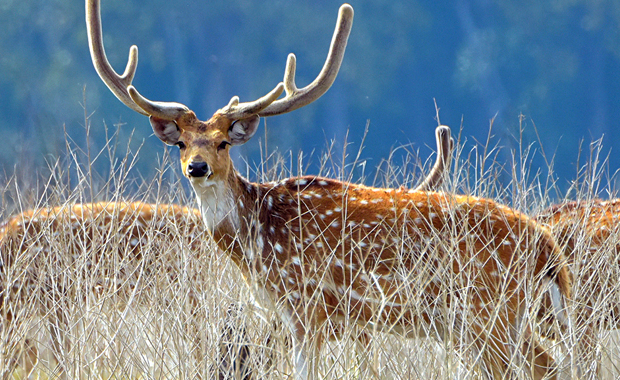 Early Understanding the link between conservation and community is the key to Jim Corbett's greatest legacy. The path between protection the tiger and welfare of community was tough. He was equally compassionate for the villagers also.
He spent his latter life with help of villagers to grow their agriculture on spreading seeds, strengthening irrigation and also encourage villagers to sale their crop to the market.
His hard work toward establishment for the Asia's first National Park with it's true sense of National Park, today present the eight decades of National conservation of tiger Reserve.
To honor his conservation vision and effort, the Park was renamed after Jim Corbett, as Corbett National Park in 1956 with the insistence of the first Chief Minister of Uttar Pradesh, Govind Ballabh Panth.
Places To See In Corbett National Park
The Corbett National park is divided with five parts according to safari zone. These zones are famous for their unique flora and fauna with many varieties.
The zones are, Dhikala Zone, Canter Safari Zone, Bijrani Zone, Jhirna Safari Zone and Dhela Zone. Forest official tours are organized in two shifts for all safari zones.
Located at the distance of about 35 km from Dhangadi Gate, Dhikala Forest Rest House, one of the main attraction in Dhikala Zone, which is just right side of core area of Corbett Tiger Reserve, offering a more real experience of wildness. You can watch here tiger, elephant, deer and other wild animals.
After Dhikala, Bijrani is the most famous Zone in Corbett National Park. Day Safari tourists are more preferred this zone for eye catching natural beauty, peaceful and relaxed atmosphere in the forest. Tourist love to watch birds and grassland, various small water body, sal forest with variety of wild life Bijrani Zone.
Jhirna Zone is also popular for day safari tourist, located at the southern corner of the forest. This zone usually open for all over the year for day safari. The famous attaction of this Zone is wild beer, Sambar, elephant, deer and also tiger.
Dhela zone is opened on December 2014 and also open for day tourist all over the year. This zone is famous for it's magnificent treasure of Sal, Shegun, Samber, Kusum, Haldu, Bahera, Rohini with large grassland and small water river that is enriched with natural beauty. The main wild animal to be watched here is Royale Bengal tiger, Nilgai, wild elephant and leopard.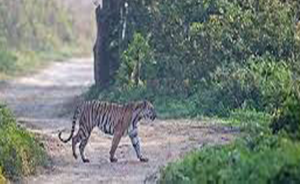 Apart from these zones the main characteristic of the region is Ramganga river, which is floating from the west through the valley and divide the lands in to several small edges and valleys.
Ramganga river also a shelter for various wild amphibious like the flock of Masheer, crocodile and also cormorant found here. The island of 'Glass' tree grow with roofs and large grassland cover the make up of the region like a magical curtain.
In this diversified topography ideal for varieties of wild life which include 50 mammals, 577 species of birds, at least 25 reptiles in Corbett National Park.
In the morning and evening elephant ride can be booked in the sloping campus for wild life watching. Corbett National Park is the longest National Park in India. Here people get travel from far and wide between the lap of high mountain seems wonderful picturesque landscape.
Additionally, the popular campground offers the more cost effective and relevant experience. North southeast of the park on the highway 309, where several guest houses, hotels and resorts are available for all budget.
Garjia Temple : One of the most popular tourist attraction is just 14 km away from the Ramnagar city. The temple is located between the Koshi river on top of the rock. After continuing climbing through several stairs devotees reach the main gate of the temple. The deity known as "Kua Devi" or Kurukshetra Goddess.
Sitabani Forest Reserve : The distance of the area is 10 km from Ramnagar. Sitabani forest is known as very difficult forest area. This place is famous for natural beauty and variety of birds. Sitabani forest has many other variety of wild life also which include leopard, king kobra, barking deer, tiger, wild bore, elephant.
Corbett Waterfall : located just 25 km away from Ramnagar the best place for rejuvenating your entire consciousness. There was no other place in Corbett National Park rather than this.
Between the lap of mountain and calm and quiet bird chirping cool ambience force you to enjoy the fullest. This place is one of the favorite picnic spot in the region. Tourist can swim and take a dip in to the river near waterfall in hot summer.
Corbett National Park is a busiest tourist destination in India. After taking a big breath in the forest's pure natural air people feel new freshness that rejuvenate their entire existence.
Frequently Asked Question and Answers
What is Corbett National Park famous for ?
Ans : Corbett National Park is the first National Park in Asia as well as India. It is famous for Tiger Reserve Forest and tourist mostly faced with Royale Bengal Tiger during their safari.
2. Which Corbett zone is best ?
Ans : Most popular zone is Dhikala Zone for it's unique night stay at forest rest house and also ideal for day safari as well.
3. Which is better Elephant Safari or Jeep Safari ?
Ans : There is two way to explore the wild animal in Corbett National Park. Most people preferred Elephant Safari for more adventurous experience.
4. Which safari is best in Jim Corbett morning or evening ?
Ans : Early morning in Jim Corbett is best for safari because of pleasant weather with sunrise beauty. Morning is perfect for target wildlife exploring like tiger, deer, birds and others.
5. Is Corbett worth visiting ?
Ans : Corbett National Park is largest of it's kind and variety of zones according to it's feature is unique. wonderful natural beauty with water fall and surrounded mountain, exploring wild lives all are just magnificent landscape that will be cherished for long.