Sundarbans — The Largest Delta World Heritage In The land Of Tigers New Wonders Of Nature
Sundarbans reserve forest have around 400 majestic Royale Bengal Tigers, which is the main attraction of tourist over the world. Sundarbans forest in India has 102 islands, 54 of them are inhabited and rest of the area covered with dense mangrove forest.
Sundarbans — The Tiger Reserve
Every corner of Sundarbans forest is well connected with ferries and boats through which tourists get fantastic opportunity of adventure to travel most inner part of the jungle on boats.
Sundarbans core area declared as Tiger Reserve on 1973 and National Park on 4th May 1989. Now Sundarbans has been enlisted as finalist of New7 Wonders Of The Nature.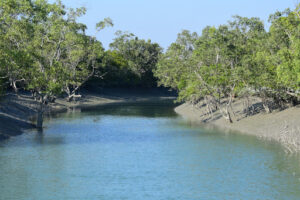 Sundarbans also Famous For Crocodile Project
Sundarbans also famous for crocodile project in Bhagabatpur. Due to increase the population of the species, breeding program of wild salt water crocodile had started in Bhagabatpur in 1976. Since then so far 629 crocodile has been released in the river of Sundarbans.
The last census shows the salt water wild 240 crocodile's existence in Sundarbans. Sundarbans is also famous of Marine fisheries. Sundarbans Biosphere Reserve is largest fishery board of India, famous for it's brackish water fish and marine fisheries.
Sundarbans forest is a part of largest Delta of the World, formed by the mightiest rivers like Ganga, Brahmaputra and Meghna, situated in the lower end of Gangetic West Bengal and Bangladesh, the largest single block of Tidal Halophytic Mangrove Forest in the World.
Sundarbans Named After Famous Sundari Trees
The story of Sundarbans is incomplete with out the significance of Sundari Trees. Sundarbans was named after it's beautiful elusive asset called Sundari tree (Sundari means "Beatiful" in Bengali). Sundari trees in this forest are struggles to hold its ground.
Royal Bengal tiger of Sundarbans is totally under spotlight, millions spent on it's protection and conservation when both spotted as endangered by IUCN. Sundarbans Mangrove forest, a UNESCO world heritage site, is situated in the eastern state of West Bengal, India and Bangladesh.
The world's largest contiguous mangrove forest is famous for the land of 2 exclusive species called Sundari trees and Royale Bengal Tigers. Surprisingly Sundarbans in India is 10 times bigger than the city of Venice.
Sundari is the dominent mangrove tree, scientifically known as 'Heritiera fomes', family 'Malvaceae', it can grow 50 to 60 ft high as touching the sky. Long, strong beautiful trees are threatened of its axistance by costal encrochment and top dying disease.
According to Dhaka Tribune on July 2018 revealed, in last 30 years 1.44 million cubic mitres of Sundari trees have been lost to atop dying disease which value nearly 2000 thousand crores in Bangladesh.
This major timber producing tree due to its high value, found logging mercy less and now become brink of extinction. It is very difficult to find a Sundari tree in Sundarbans now. Another major reason due to global warming, climate change and increase of salinity and sea water level.
Now high level ground become almost vanish and Sundari tree has a tolerance of very low saline water for vibrantly flourish. Studies shows mangroves are not salt water lovers rather they have a low tolerance of saline water. High salt in water can damage their growth and lost their existence.
Threatened Conditions Of Sundarbans
Research shows that due to human encroachment and increased sea level, Sundarbans is shrinking slowly, the forest has been losing almost 16 km of vegetation per year since 1991.According to expert rising global warming and salinity in water also invite microbial fungal diseases and insect pests.
Increasing heat wave since last 5 years have been record high due to global warming, as cyclones increased more rapidly. Sundarbans areas not unknown of storms but intensity and characteristics changed widely.
Last year Sundarbans has rocked with two high intensified super cyclone within 6 month, 'Bulbul' in November 2019 and 'Amphan' in May 2020. Amphan was the biggest storm in recorded history.
It's force and intensity was so wild that Sundarbans faced an unrepairable catastrophic damages that left after worth. Earlier cyclone "Sidr" in 2007 has damaged 40% of the Sundarbans forest, agricultural lands effected badly.
Because of saline waters, lands became useless for the next 2-3 years. The natural damage of ecosystem due to the super cyclone Amphan, is yet to be known, but it could be much more worse than expected.
Expert says it could have been killed many species like fishes to reptiles or mammals. They won't be able to survive such a huge demon like storm that never faced before.
Most fearful fact is that the boar and deer population which is also called as pray group, are significantly minimized. Loss of availability of pray for tigers may lead to increase human- tiger conflict in the ecosystem.
Significant Of Mangroves In Sundarbans
Mangrove forest provides an unique costal ecosystem that minimize the effect of frequent storm. Even storm like 'Amphan' it minimize the speed atleast 20 to 25km/hour before it become on land. According to the expert damage could have been more severe if Mangrove forest was not there.
It works as a natural ecological barrier that protects against extreme weather. It protects costal areas from frequent storm surges, reduce long term destruction of inter tidal zone. But long term effect of Global warming can destroy this magnificent natural ecosystem with continuous increasing frequencies of cyclones.
Life Style Of Farmers in Sundarbans
Mainly people are farmers in Sundarbans. Tourism also well florist industry here. Government and many national international NGOs are well focused on the situation of its human habitants and forest assets as its a World Heritage Centre.
But inner parts of the villages of far areas people used to enter jungle to fetch honey, wood particles and many other things. They catch fishes and crabs to sell in the local bazar or for their own survival. Sundarbans has a unique tidal process, the water level increase 6 to 10ft at high tide and in low tide you can see no water a huge mud land left there.
Many small fishes, crabs stuck in to the mud which they collect for their daily use. They often face to the Tiger when they try to collect fishes and crabs from the core areas in the jungle. They use small "Dingi" to catch fishes when high tide on the river. Many real life stories are found here, how they survive with fighting tigers in their daily life.
Most men were killed here by Tiger attack. This place notorious as 'widow village' where mostly women are found widows, who's husband are killed by the Tiger. Government also help less because they are not allowed beyond buffer zone for fishing. But villagers always tend to cross their limits for big crabs and more profits.
Sundarbans Badly Effected By the Cyclones
Mostly people are farmers here. After the cyclone 'Sidr', Farmers struggled hard to recover lands from saline water for further bowing crops. But since last 2-3 years big environmental changes, increased rainfalls over the year, that flooded the areas periodically.
All dams are broken, saline water over flooded the villages, all crops are destroyed by the cyclone "Yash" this year. 2020 for Corona pandemic and 2021 for unlimited rain fall combined the situations just unbearable for the people of Sundarbans.
Another major factor that is developing furiously is migration. Over birth rate, cutting mangrove, destroying wetlands, ponds and water body. Filling water body to make unauthorized buildings by land mafias became a threatening condition in the areas.
Sundarbans have it's own geo-political structure and unique systems of lifestyle. Before the dense forest reserve starts, Goshaba is the biggest and last inhabited inland in Sundarbans in Indian part. It is 13ft high from sea level.
Even though the island is isolated from main land it has it's own Panchayat. Other things like local self governance, schools and hospital also available in the island. Sundarbans is a world heritage center, many NGOs and Government also has focused on its preservation.
But life is very much challenging here due to delta wet land and mangrove echo system, where sea and river water combination plays the major role in the land of tiger and crocodile.
Frequently Asked Questions And Answers :
1. Which is the biggest Island of Sundarbans ?
Ans: Sundarbans consist of 100 islands and 4.5 million population. The most large and highest population is in Sagar Island. It is called the biggest island in Sundarbans.
2. Which is the best time to visit Sundarbans ?
Ans : September to March is the best for visiting Sundarbans. Summer may cause hot and humid for travel and Winter is the most pleasant for this zone to travel and watch animals.
3. How many Tigers left in Sundarbans ?
Ans : Around 400 Tigers are reside in Sundarbans.
4. Why Sundarbans is in Danger ?
Ans : Sundarbans is destroying by many ways. The climate change, global warming , increasing floods destroying mangrove forest and animals. Other than this encroachment and building construction around the forest also fearing it's existence. Increasing sea level gobbling the lands and shrinking mangrove forest slowly.
5. What is Sundarbans special for ?
Ans : Sundarbans is special for world's largest delta and mangrove forest. It is an UNESCO world heritage site. It is also famous for the Tiger Reserve Forest and 400 Tiger's shelter here. It is also shelter for endangered species, crocodile and plenty of birds.